Battle of Wits Begins Over Senate President Job
The 2019 national assembly election threw up some of the biggest political heavyweight losses that Nigeria has ever witnessed. It was a surprise - and for some a shock - to find out that incumbent senate president Bukola Saraki lost his seat. Now, the 9th National Assembly throws many new names into the pot. And with some of the newly elected senators facing corruption probes, and others already already being prosecuted, who will emerge as the new leader?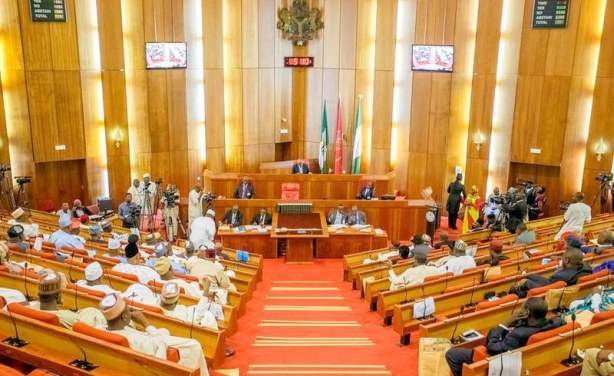 The Nigerian Senate (file photo).
Nigeria: Okorocha Absent As INEC Presents Certificate to Senators-Elect

Premium Times, 14 March 2019

The Independent National Electoral Commission (INEC) on Thursday presented certificates of return to senators-elect. Read more »

Nigeria: 11 Incoming Senators Facing Corruption Probe

Premium Times, 27 February 2019

On February 23, Nigerians in various part of the country went out in their numbers to different polling units to elect a president and lawmakers that will represent them in the 9th… Read more »

Nigeria: Senators Who Will Not Be Part of the 9th Assembly

Premium Times, 28 February 2019

Some prominent senators in the Eighth National Assembly will not be returning in the next assembly, having lost at the polls on Saturday. Read more »

Nigeria: 10 'Ranking' Senators Who Will Return to National Assembly

Premium Times, 28 February 2019

As the ninth Senate begins to take shape, at least ten senators will now be qualified to be called 'ranking members'. Read more »

Nigeria: Big Winners and Losers in the Ninth Senate

Vanguard, 27 February 2019

Yesterday's confirmation of the defeat of Senator Godswill Akpabio in last weekend's Senate election brought to 24 the number of incumbent senators who lost their bid to return to… Read more »

Nigeria: Oshiomhole Mocks Saraki for Losing Senatorial Seat

Guardian, 28 February 2019

The National Chairman of the All Progressives Congress (APC), Adams Oshiomhole, yesterday celebrated the failure of the Senate President, Bukola Saraki, in his re-election bid. Read more »

Nigeria: How Prominent Nigerian Politicians Lost in Their Polling Units

Premium Times, 27 February 2019

The 2019 presidential and National Assembly elections finally held on Saturday, February 23. The election was postponed from February 16 to 23 after the Independent National… Read more »

Nigeria: Ruling Party Has More Than Half of Senate Seats Announced So Far

Premium Times, 27 February 2019

Millions of Nigerians came out on Saturday to vote in a president and a vice for another term of four years. Read more »
InFocus
Outoing Nigerian Senate President Bukola Saraki says he is praying that the people of his state will have the best from their elected officials at both the federal and state level. ... Read more »