Nigeria's Buhari May Dissolve Cabinet Before May 29 - Presidency
Presidential spokesman Femi Adesina has said that President Muhammadu Buhari is likely to dissolve his cabinet before his swearing-in for his second tenure and form a new one. In 2015, it took Buhari six months to constitute his cabinet after taking office.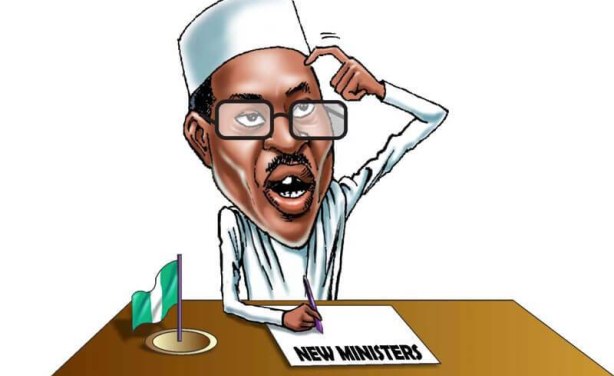 Muhammadu Buhari's dilemna.
Nigeria: Buhari Will Constitute Cabinet Faster Than 2015, Says Presidency

Guardian, 28 February 2019

A spokesman for the Nigerian government on Thursday said President Muhammadu Buhari will constitute members of his government faster than he did in 2015 after being sworn-in. Read more »

Nigeria: Buhari May Dissolve Cabinet Before May 29 - Presidency

Vanguard, 1 March 2019

Special Adviser, Media and Publicity to the President, Femi Adesina, said, yesterday, that President Muhammadu Buhari will likely dissolve his cabinet before May 29. Read more »

Nigeria: We're Ready to Defend Buhari - Ruling Party Legal Team

Premium Times, 28 February 2019

The legal directorate of the All Progressive Congress Presidential Campaign Council has said it is ready to defend President Muhammadu Buhari. Read more »

Nigeria: How Buhari's Votes Changed Significantly in Key States Compared to 2015

Premium Times, 1 March 2019

The February 23 presidential election saw the re-election of Nigeria's president, Muhammadu Buhari, of the All Progressive Congress (APC). He defeated his main challenger, Atiku… Read more »

Nigeria: We're Not Jittery By Atiku's Rejection, Legal Threat - Presidency

Daily Trust, 1 March 2019

The presidency yesterday said it was not jittery by the presidential candidate of the PDP, Atiku Abubakar's rejection of the last Saturday's presidential election. Read more »

Nigeria: Atiku Is Free to Go to Court, Says Presidency

This Day, 28 February 2019

The presidency Thursday in Abuja said it was not threatened by the decision of the Peoples Democratic Party (PDP) presidential candidate, Atiku Abubakar, to challenge President… Read more »

Nigeria: Atiku Not Destined to Be Nigeria's President - Oshiomhole

Premium Times, 28 February 2019

The national chairman of the All Progressives Congress (APC), Adams Oshiomhole has said former vice president, Atiku Abubakar was never destined to rule Nigeria. Read more »

Nigeria: Five Parties That Came Tops At Presidential Polls

Premium Times, 28 February 2019

The just-concluded presidential election which gave the incumbent, President Muhammadu Buhari, a second term mandate sprung surprises especially with the scores polled by some… Read more »

Nigeria: Elections - U.S. Congratulates Buhari, Nigerians

Premium Times, 1 March 2019

The U.S. government has congratulated President Muhammadu Buhari on his re-election. Read more »
InFocus
Many Nigerians say that President Muhammadu Buhari needs to do more in the area of creating employment, reviving the economy, tackling corruption and defeating Boko Haram, but will ... Read more »