President Al-Bashir Delegates Party Powers to Deputy
The move comes less than a week after President Omar al-Bashir declared a state of emergency, following weeks of protests across Sudan, against fuel and cash shortages.
Sudan: President Al Bashir Delegates Powers as Head of Ruling Party to Deputy

allAfrica, 1 March 2019

Sudanese President Omar Al Bashir has delegated his powers and authority as head of the ruling National Congress Party to its deputy head, Ahmed Mohamed Haroun, until the party's… Read more »

Sudan: Ahmed Haroun Named As Acting Chairman of National Congress

SNA, 1 March 2019

President of the Republic, Field Marshal Omer Al-Bashir, has delegated his powers and jurisdiction, as the Chairman of the National Congress (NC), to Ahmed Mohamed Haroun, who is… Read more »

Sudan: 'Rejection Marches' Held in Capital and States

Radio Dabanga, 1 March 2019

Yesterday, the Sudanese uprising against President Omar Al Bashir continued in the states and in districts of the capital city, in conjunction with the announced 'rejection… Read more »

Sudan: Africa's Strongmen and the Dying Art of Fine Dictatorship

Nation, 28 February 2019

Sudan's embattled President Omar al-Bashir, facing three months of protests, has lost it. Read more »

East Africa: African Civil Society Groups Call for IGAD Response to Sudan Uprising

Radio Dabanga, 1 March 2019

Thirteen civil society organisations have called for a strong response from the Intergovernmental Authority on Development (IGAD) to the uprising in Sudan. Read more »

Sudan: First Emergency Court Trials Against Protesters in Khartoum

Radio Dabanga, 1 March 2019

Thursday witnessed various protest marches in which thousands of Sudanese people participated against the regime of President Omar Al Bashir and its newly imposed Emergency Orders.… Read more »

Sudan: Detained Editor-in-Chief's Whereabouts Unknown, Concerns Grow

Radio Dabanga, 1 March 2019

The Sudanese security service has refused to inform the family of El Tayyar editor-in-chief Osman Mirghani about his whereabouts or allow them to visit him. Read more »

Sudan: U.S. Corporate Investment Should Not Be Promoted in Sudan While the Country Is in Turmoil

ENOUGH, 27 February 2019

In response to widespread peaceful protests across the country, on Friday, February 21, Sudanese President Omar al-Bashir imposed a year-long State of Emergency, dissolving the… Read more »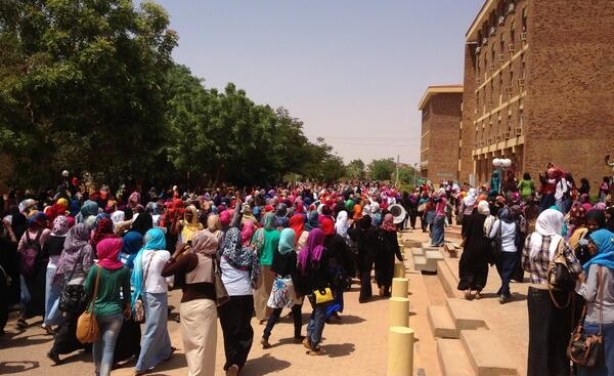 Protest in Sudan (file photo).
Sudan: No Easy End to Stand-Off Between Al-Bashir and Protesters

The Conversation Africa, 28 February 2019

Sudan's President Omar al-Bashir continues to hold the country hostage. While his intelligence chief Salah Abdallah Gosh announced recently that al-Bashir would be stepping down as… Read more »

Sudan: Former NCP Head - 'State of Emergency Has Complicated Crisis in Sudan'

Radio Dabanga, 27 February 2019

The former Secretary-General of the Sudan's ruling National Congress Party (NCP), El Shafee Ahmed, says that the declaration of the State of Emergency and the Emergency Orders… Read more »

Sudan: Sudan Uprising - Protesters Undaunted By State of Emergency

Radio Dabanga, 27 February 2019

The popular uprising in Sudan, which is now into its third month, has continued despite the declaration of a State of Emergency and the resulting Emergency Orders designed to… Read more »

Sudan: Opposition Lambasts State of Emergency, Bashir Decrees Emergency Orders

SudaNow, 2 February 2019

The opposition grouping, the Forces for Freedom and Change (FFC), has rejected the state of emergency recently declared by the government as unlawful and unconstitutional. Read more »

Sudan: International Troika Voices Concern Over State of Emergency in Sudan

Radio Dabanga, 27 February 2019

The Troika (the UK, USA, and Norway) and Canada have voiced their concern about the proclamation of a State of Emergency in Sudan, emergency orders, and the appointment of senior… Read more »

Sudan: Emergency Court Established, Joint Staff Command Reshuffled

Radio Dabanga, 27 February 2019

An Emergency Court has been established in the Sudanese capital of Khartoum, to deal with cases related to the State of Emergency proclaimed in Sudan on Friday. President Al Bashir… Read more »
InFocus
President Omar al-Bashir's declaration of a state of emergency will not save his regime. Instead, security forces must halt worsening violence, Bashir should step down and all ... Read more »

Assistant Secretary-General for Africa and Peacekeeping Operations Bintou Keita, has told the UN Security Council that "the impact of the recent developments in Khartoum on the ... Read more »

President Omar al-Bashir has appointed a new first vice president and prime minister, a day after declaring a year-long state of emergency to counter protests calling for his ... Read more »