Tension Builds Up Between Uganda, Rwanda Over Border Closure
Uganda has accused Rwanda of blocking cargo trucks and other vehicles, and stopping its nationals from crossing into Rwanda at the Katuna border amid a resurgence of hostility between the two African neighbours. The Uganda State minister for Regional Cooperation says Uganda is considering petitioning the East African Community Secretariat to challenge what it perceives as Rwanda's economic sabotage.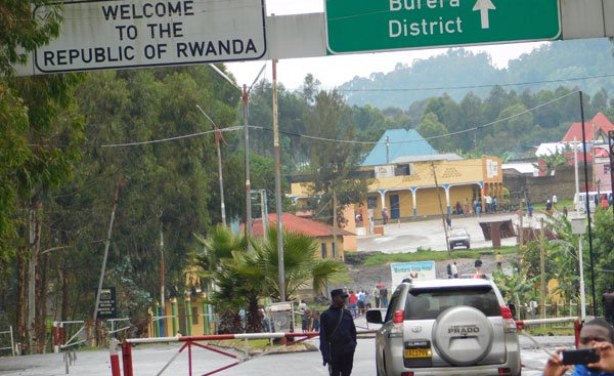 Border check. A Rwandan security officer inspects a vehicle from the Ugandan side at Cyanika border post.
Rwanda: Cleared Cargo Stranded At Gatuna As Uganda Pleads With Kigali

Monitor, 4 March 2019

As the border closure between Rwanda and Uganda entered day six on Monday, the Uganda Revenue Authority revealed that it was taken by surprise by Rwanda's action, and that pleas to… Read more »

Rwanda: Rwanda Starts Fining Buses Taking Rwandans to Uganda

Observer, 4 March 2019

Rwanda has finally allowed passenger buses to travel from Kigali to Kampala through the Katuna border in Kabale district and Chanika in Kisoro district but with strict restrictions… Read more »

Uganda: Traders, Truck Drivers Recount Ordeal At Closed Katuna Border

Monitor, 3 March 2019

"We left Mombasa in Kenya and reached Katuna border town on Wednesday hoping to proceed and deliver the salt that we are carrying only to find an order of no entry. I have… Read more »

Uganda: Rwanda-Uganda Border Closure Creates Logistics Nightmare

East African, 2 March 2019

"Do you want to cross to Uganda and be mistreated? They will arrest and torture you. We will not allow you to take that risk!" Read more »

Uganda: Govt Summons Rwanda Envoy Over Border Standoff

Monitor, 2 March 2019

The government has summoned Rwandan envoy to Uganda, Maj Gen Frank Mugambage, to explain the diplomatic standoff at the Uganda-Rwanda border, a government spokesperson announced… Read more »

Uganda: Business Still Paralysed At Uganda-Rwanda Border Towns

Monitor, 1 March 2019

Business at Katuna and Chanika towns at the Uganda-Rwanda is still paralysed after the Rwanda customs officials allegedly failed to clear cargo trucks. Read more »

Uganda: Kutesa in Touch With Rwanda to Resolve Border Issues, Says Opondo

Monitor, 1 March 2019

Uganda's Foreign Affairs minister, Sam Kutesa is in touch with Rwandan authorities to resolve any border issues, government has said. Read more »

Uganda: Rwanda Restricts Trucks From Uganda At Border

Monitor, 28 February 2019

Cargo trucks from Uganda have been blocked from crossing into Rwanda at Katuna, also known as Gatuna, to pave the way for the upgrade of the one-stop border post, the Rwanda… Read more »
InFocus
Rwandan President Paul Kagame has become the first East African to use his identity card at Kigali International Airport to cross the border into Uganda. His Kenyan counterpart ... Read more »