Kenya, Ethiopia Renew Commitment on Joint Infrastructure Projects
Kenya's President Uhuru Kenyatta and Ethiopia's Prime Minister Abiy Ahmed have said that the regional mega initiative, the Lamu Port-South Sudan-Ethiopia Transport Corridor, is key to unlocking the economic potential of the entire East African region. The two leaders have also called for the fasttracking of the ongoing transformation of Moyale town into a cross-border trade hub in the region.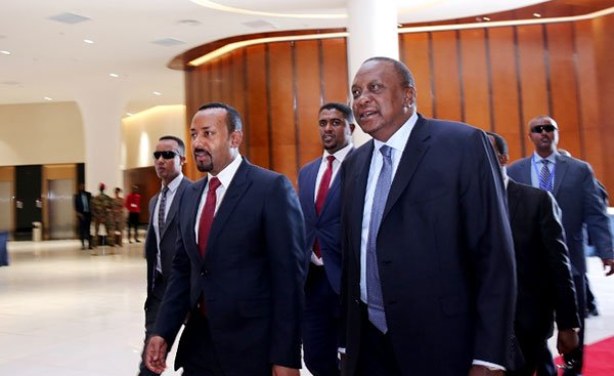 Ethiopian PM Abiy Ahmed, left, and Kenya's President Uhuru Kenyatta attend the Kenya-Ethiopia Trade and Investment Forum in Addis Ababa on March 1, 2019.
Kenya: Youths, Local Industries to Reap More From Lapsset Project

Nation, 25 November 2018

The Lapsset Corridor Development Authority (LCDA) has pledged more jobs for local youths with the second phase of dredging and construction of the first three berths at the site in… Read more »

Kenya: Lapsset, Coal Plant Revamp Kililana Into Investors' Paradise

Nation, 13 December 2018

About a decade ago, no one in Lamu wanted to be associated with Kililana, a village in Lamu West which was known only for mangrove logging and a bit of farming. Read more »

Kenya: Eritrea, Ethiopia Peace Pact Won't Hurt Lapsset, Says CEO

Nation, 9 October 2018

Divergent views have been expressed concerning the impact of the Eritrea and Ethiopia peace agreement on the implementation and operationalisation of the Sh2.5 trillion Lamu Port… Read more »

Kenya: Lamu Fishermen Affected By Lapsset Urged to Embrace Seaweed Farming

Nation, 25 November 2018

Fishermen affected by insecurity and the ongoing dredging activities at the Lamu Port-South Sudan-Ethiopia-Transport (Lapsset) Corridor project have been advised to embrace seaweed… Read more »