People With Albinism March to Demand Malawi Govt Protection
Police in Lilongwe blocked a protest march by the Association of People with Albinism from reaching Kamuzu Palace, official residence of President Peter Mutharika. The protesters were demanding that the government step up protection for people with albinism. The march cames amid fears that people with albinism could be at increased risk ahead of elections in May as candidates seek out "lucky charms" to boost their chances of victory.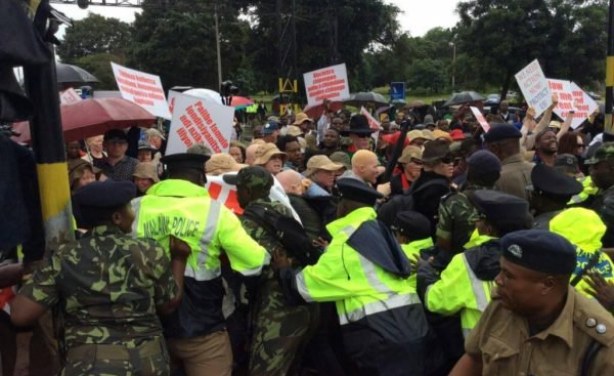 Police block APAM demonstrators from reaching State House.
Malawi: Malawi People With Albinism Set Up Protest Camp, Demand to Meet President

VOA, 8 March 2019

About 300 people, most of them albinos, have braved steady rains this week - sometimes bringing traffic to a standstill - to protest near the residence of Malawi's president, Peter… Read more »

Malawi: People With Albinism Protest As Attacks Spike Ahead of Polls

Thomson Reuters Foundation, 6 March 2019

Protesters took to the streets in Malawi's capital on Wednesday to demand the government step up protection for people with albinism following a spate of murders and attacks driven… Read more »

Malawi: Persons With Albinism Stage Demo, March to Malawi Presidential Palace

Nyasa Times, 6 March 2019

Association of People with Albinism in Malawi (Apam) on Wednesday defiantly marched to Kamuzu Palace in Lilongwe despite being denied permission to protest and stage vigils at… Read more »

Malawi: State House Blocks Persons With Albinism Vigils

Nyasa Times, 5 March 2019

Association of Persons with Albinism in Malawi (Apam) who were planning to be marching to Kamuzu Palace and hold vigils from March 6 to 8 2019, have been told by Lilongwe City… Read more »
InFocus
Malawi Minister of Justice and Constitutional Affairs Samuel Tembenu has said the country's death penalty law that hasn't been used since the change to a democratic government in ... Read more »