EFF Leading South African Information War with 'Army of Trolls'?
Violent cyber-attacks on journalists are in focus again following death and rape threats against radio and television anchor Karima Brown. Research has revealed that the EFF trolling army is now as violent and as powerful as those in 28 countries studied by Oxford University's Computational Propaganda Research Project, writes Ferial Haffajee.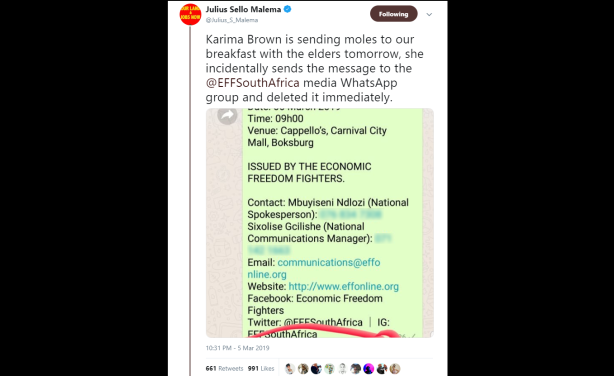 Screenshot of a tweet from EFF leader Julius Malema accusing veteran journalist Karima Brown of using "moles" to spy on the party.
South Africa: An Open Letter to the Women of the EFF

Daily Maverick, 7 March 2019

We know you're still in there somewhere. Could you please remind your male colleagues what the EFF was supposed to be doing about gender? Read more »

South Africa: Primedia Broadcasting Condemns 'Vicious Personal Attacks' Against Karima Brown

News24Wire, 7 March 2019

Primedia Broadcasting, owner of Talk Radio 702, has expressed outrage at the "vicious personal attacks" on veteran journalist Karima Brown by EFF supporters. Read more »

South Africa: 'How Do You Hold an Underground Editor Accountable ' - Malema On Karima Brown Matter

News24Wire, 6 March 2019

The EFF remains unrepentant in its stance on veteran journalist Karima Brown, in the wake of condemnation from fellow journalists and the South African National Editors' Forum… Read more »

South Africa: Editor's Forum Slams EFF, Malema After Veteran Journalist Karima Brown Faces Threats

News24Wire, 6 March 2019

The EFF and its top leadership has come under fire after veteran journalist Karima Brown was verbally abused and received threatening messages after her cellphone number was… Read more »

South Africa: Editors' Forum Slams Malema, Supporters' Actions Against Veteran Journalist

SANEF, 6 March 2019

The South African National Editors' Forum (SANEF) condemns the systemic, abusive and cruel social media attack levelled against Talk Show Host and veteran journalist Karima… Read more »
InFocus
"If you are offended I am unconditionally sorry. Is that clear?" said Floyd Shivambu after he was filmed assaulting Netwerk24 journalist Adrian de Kock in Cape Town's ... Read more »