Future Uncertain For Zimbabwe's Youngest MP Charged With Treason
With tensions rising as Zimbabwe's economic problems hurtle towards a tipping point, the police has stepped up its arrests of opposition officials and civil society leaders accused of instigating violence during the January protests - with the lastest being Charlton Hwende. His arrest comes a few days after Joana Mamombe, the youngest MP in parliament, was also arrested for treason. Both MDC Alliance legislators face 20 years in prison if convicted.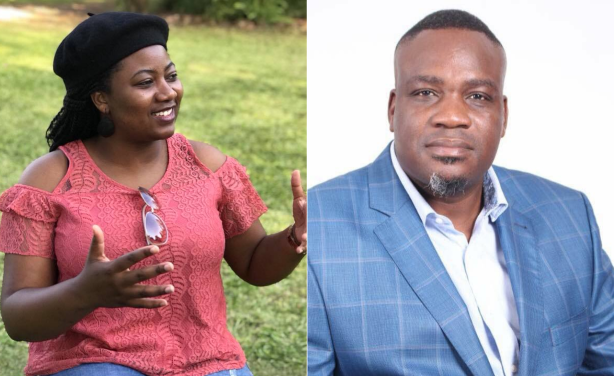 MDC Alliance MPs Joana Mamombe, left, and Charlton Hwende, right.
Zimbabwe: My Daughter's Life Is Being Shattered Down - Mamombe's Mother

263Chat, 5 March 2019

Kudzai Chiwanza, mother to the Harare West legislator Joanah Mamombe broke down as she watched her first born daughter leaving the court room back to the cells after she was… Read more »

Zimbabwe: More Opposition Legislators Targeted Over Anti-Govt Protests

Kubatana.net, 5 March 2019

Opposition legislator for Harare West constituency Hon. Joana Mamombe will remain in prison custody after a Zimbabwean court dismissed her application challenging the lawfulness of… Read more »

Zimbabwe: Arrest of MDC-Alliance MPs Lawful - Speaker

The Herald, 6 March 2019

The arrest of several Members of Parliament from the MDC-Alliance was lawful as legislators are not above the law and there is no legal provision affording them special treatment… Read more »

Zimbabwe: Treason Accused MP Mamombe Spends Night in Custody

New Zimbabwe, 4 March 2019

Treason accused MDC Harare West MP Joanah Mamombe will know her fate this Tuesday after she appeared in court on Monday challenging her placement on remand. Read more »

Zimbabwe: Opposition MP Hwende Arrested for Treason

New Zimbabwe, 5 March 2019

MDC legislator for Kuwadzana East Charlton Hwende was seized by detectives at the Robert Gabriel Mugabe Airport Tuesday morning as he returned from Namibia. Read more »

Zimbabwe: Opposition Politician Mamombe Arrested

Zimbabwe Standard, 3 March 2019

Harare West MDC Alliance legislator Joana Mamombe was yesterday charged with trying to topple President Emmerson Mnangagwa's government following the January 14 protests. Read more »

Zimbabwe: Opposition MP Hwende Remanded to March 20

The Herald, 7 March 2019

MDC Alliance legislator for Kuwadzana East Chalton Hwende appeared at the Harare Magistrates' Court yesterday charged with subverting a constitutionally elected Government. Read more »

Namibia: Zimbabwean Opposition MP Seeks Refuge in Namibia

New Era, 30 January 2019

Chalton Hwende, a Member of Parliament for Zimbabwe's Movement for Democratic Change (MDC) Alliance, is in Namibia amidst reports in his home country that he is wanted by police in… Read more »

Zimbabwe: Govt Targeting Civil Society Leaders - Group Claims

New Zimbabwe, 14 January 2019

With tensions rising as Zimbabwe's economic problems hurtle towards tipping point, a civil society group has accused President Emmerson Mnangagwa's administration of hatching a… Read more »

Zimbabwe: Mnangagwa Admits Unleashing Murder and Rape-Accused Military

New Zimbabwe, 17 February 2019

President Emmerson Mnangagwa has ominously vowed to go after doctors and nurses who treated victims of the brutal police and military crackdown against protestors last month. Read more »