Nigeria's Latest Lassa Fever Outbreak Claims 93 Lives
Since the beginning of the year, health officials have been fighting a renewed outbreak of Lassa fever in the country - this as the Nigeria Centre for Disease Control reported that the death toll has risen to 93. Between February 25 and March 3, 2019, 39 new confirmed cases were reported in six states with eight deaths in Edo, Ondo, and Kogi states.
Nigeria: Lassa Fever Death Toll Hits 93

Premium Times, 7 March 2019

The death toll from the Lassa fever outbreak in Nigeria has increased to 93, the Nigeria Centre for Disease Control (NCDC) has disclosed. Read more »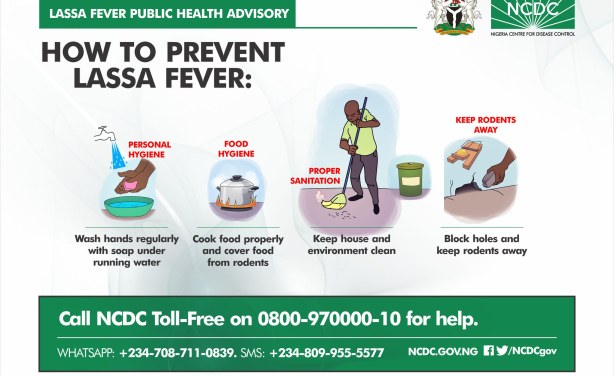 Lassa fever public health advisory.
Nigeria: Lassa Fever Kills Eight, Infects 39 in Six States

Guardian, 8 March 2019

Again, the ongoing Lassa fever outbreak in over 21 states of the federation has killed eight Nigerians and infected another 39 in Edo, Ondo, Ebonyi, Bauchi, Taraba and Kogi. Read more »

Nigeria: WHO Remains Mobilized Against Lassa Fever Cases

WHO, 4 March 2019

While the number of new Lassa fever cases have significantly reduced over the past weeks, intensified response activities are on-going to control the outbreak across Nigeria. To… Read more »

Nigeria: Lassa Fever - Nigeria Records 381 Cases

Premium Times, 1 March 2019

Some 381 people have been confirmed to be positive with Lassa fever, in Nigeria, as at February 24. Read more »

Nigeria: Rats Borne Fever Kills Over 80 in Nigeria

CAJ News, 4 March 2019

AT least 83 people have died this year from a raging outbreak of Lassa fever in Nigeria. Read more »
InFocus
The Nigeria Centre for Disease Control has confirmed 37 new cases of Lassa fever recorded between February 4 and February 10. Lassa fever is a haemorraghic disease caused by urine ... Read more »