Ethiopia Crash - Boeing Grounds Global Fleet of 737 MAX Planes
Boeing has issued a statement grounding its global fleet of 737 MAX aircraft after investigators uncovered new evidence at the scene of the fatal Ethiopian Airlines crash. The U.S.'s Federal Aviation Administration said fresh evidence as well as newly refined satellite data prompted it's decision to temporarily ban the jets.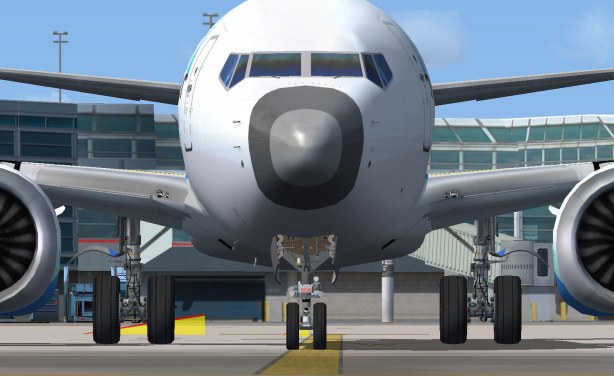 A Boeing 737 MAX in Toronto.
Ethiopia: Global Backlash Over Boeing Jet Growing After Deadly Ethiopia Crash

VOA, 13 March 2019

The European Union's aviation safety agency has banned the model of a Boeing aircraft that was involved in two fatal crashes, including an accident on Sunday that killed nearly 160… Read more »

Ethiopia: House Democrats Respond to Grounding of Boeing Aircraft

U.S. House, 13 March 2019

Statement from Chair of the House Committee on Transportation and Infrastructure Peter DeFazio (D-OR), and Chair of the Subcommittee on Aviation Rick Larsen (D-WA): Read more »

Nigeria: More Countries Ground B737MAX8 After Ethiopian Flight 302 Crash

This Day, 12 March 2019

More countries have joined Ethiopia, Indonesia, China and Camay Island to ground the operations of Boeing 737MAX8 after the aircraft type operated by Ethiopia Airlines crashed on… Read more »

Ethiopia: Statement on ET302 by U.S. House Aviation Subcommittee Chair

U.S. House, 12 March 2019

Opening statement on ET302 by Chairman Rick Larsen (Democrat-WA) at the hearing of the Aviation Subcommittee of the House Transportation and Infrastructure Committee: Read more »

South Africa: Ethiopian Airlines Crash - Comair Pulls New Boeing 737-8 Max Out of Service

News24Wire, 11 March 2019

Comair has decided to remove its 737 MAX from its flight schedule. Read more »

Ethiopia: Boeing to Roll Out Software Update to 737 MAX

, 11 March 2019

March 11, 2019 - The Boeing Company is deeply saddened by the loss of Lion Air Flight 610, which has weighed heavily on the entire Boeing team, and we extend our heartfelt… Read more »

Ethiopia: Singapore Temporarily Suspends Boeing 737 MAX

, 12 March 2019

The Civil Aviation Authority of Singapore (CAAS) is temporarily suspending operation of all variants of the Boeing 737 MAX aircraft into and out of Singapore in light of two fatal… Read more »

South Africa: Comair Chooses to Ground Its Boeing 737 Max 8 Until Further Notice

Daily Maverick, 12 March 2019

Following the crash of Ethiopian Airline's Boeing 737 MAX 8 on 10 March, Comair-British Airways and Kulula have decided to ground their Boeing Max 8 until experts rule out any… Read more »

Ethiopia: Authorities Set to Carry Out Forensic Investigation

ENA, 10 March 2019

A committee comprising of Ethiopian Airlines, Ethiopian Civil Aviation Authority, and Ethiopian Transport Authority has been set up to carry out forensic investigation to identify… Read more »

Ethiopia: Black Boxes From Crashed Flight ET 302 Recovered

ENA, 11 March 2019

Ethiopian Airlines announced that the Digital Flight Data Recorder (DFDR) and Cockpit Voice Recorder (CVR) of ET302 have been recovered. Read more »

East Africa: Ethiopian Airlines Grounds its Fleet of 737 MAX 8 Planes

Deutsche Welle, 10 March 2019

An Ethiopian Airlines flight en route to Nairobi crashed shortly after takeoff, with the airline confirming that there were no survivors. The pilot had reported difficulties and… Read more »

Ethiopia: Ethiopian Airlines Grounded All B-737-8 Max Jets

ENA, 11 March 2019

Ethiopian Airlines has grounded all B-737-8 MAX jets, following the Ethiopian Airlines plane crash that killed all 157 people on board. Read more »

East Africa: Ethiopian Airlines Launches Probe After Deadly Crash

Nation, 10 March 2019

Ethiopian Airlines says it has contacted families of the 157 victims of plane crash at Bishoftu to inform them of the "tragic accident." Read more »

Ethiopia: PM Abiy Visits Flight ET 302 Accident Scene

ENA, 10 March 2019

Prime Minister Abiy Ahmed visited the accident site of Ethiopian Airlines Flight ET 302, which took the lives of 157, earlier this afternoon. Read more »

Kenya: After Crash, Need to Review Aircraft Safety

Nation, 11 March 2019

The aviation industry has to confront tough questions about the Ethiopian Airline plane crash that killed some 157 aboard yesterday. Air travellers need assurance on their safety… Read more »
InFocus
People of 33 nationalities were reported to have been on board the plane which crashed soon after take-off from Addis Ababa to Nairobi on Sunday morning. The new aircraft was of ... Read more »

Among the Kenyans who were on board the ill-fated Boeing 737-MAX which crashed soon after take-off from Addis Ababa to Nairobi were a corporate chief, university lecturers, a ... Read more »