Will Elections in Guinea-Bissau End Years of Political Crisis?
Voters in Guinea-Bissau went to the polls on March 10 to elect a new parliament in the hope of ending a protracted leadership deadlock in a country that has become well-known for drug trafficking and instability. The ruling party fielded candidates along with 20 opposition parties, voting was peaceful and turnout was high - but the question that remains is whether or not the poll will mark the end of a long period of political crisis and the beginning of a new era in the West African country.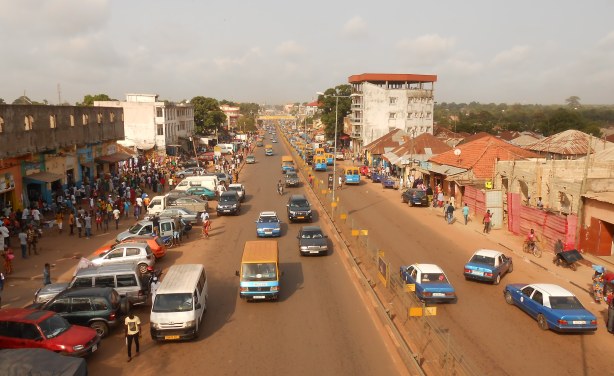 The central Avenida dos Combatentes da Liberdade da Pátria avenue in the capital Bissau (file photo).
Nigeria: Buhari Sends Envoy to Guinea Bissau Ahead of Elections

Premium Times, 5 March 2019

President Muhammadu Buhari has sent Minister of Foreign Affairs, Geoffrey Onyeama, as special envoy to Guinea Bissau ahead of Sunday's parliamentary elections in the country. Read more »

Africa: AU Deploys an Election Observation Mission for the Legislative Elections in Guinea - Bissau

African Union, 3 March 2019

African Union deploys an Election Observation Mission for the Legislative Elections in Guinea -Bissau Read more »

Guinea Bissau: Underpaid and Abused, Domestic Workers Seek Protection

Thomson Reuters Foundation, 22 February 2019

Guinea-Bissau, one of Africa's poorest states, excludes domestic workers from its national labour law, giving them little protection against exploitation and abuse, activists say. Read more »

West Africa: UN Security Council Visits Côte d'Ivoire and Guinea-Bissau

Africa Renewal, 19 February 2019

Members of the United Nations Security Council are on a mission to West Africa where they are reviewing strides made in peacebuilding by both Côte d'Ivoire and Guinea-Bissau. Read more »
InFocus
The country's political crisis was top of the agenda of the recent Ecowas summit in Liberia. Read more »

Acting President Yemi Osinbajo has noted the commitment of Nigeria to continue supporting the ECOWAS-led mediation process and the full restoration of peace in Guinea Bissau. ... Read more »