Uganda Threatens to Quit Somalia Peacekeeping Mission
Uganda is the latest East African country to threaten to withdraw Uganda's forces from the peacekeeping mission in Somalia if the United Nations insists on reducing the number of troops. The UN Security Council, in Resolution 2372 of 2017, proposed a phased drawdown of peacekeepers in with a full pullout by 2020 due to declining and irregular funding.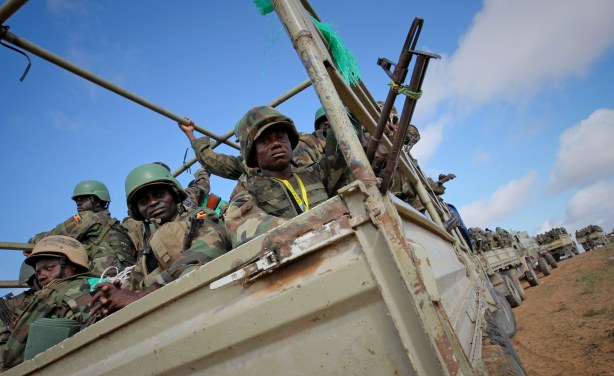 Ugandan soldiers serving with the African Union Mission in Somalia (AMISOM) prepare to deploy near the Somali capital of Mogadishu in an area that became home to a large refugee population (file photo).
Burundi: Burundi in Threat to Quit Somalia Mission

East African, 25 February 2019

The African Union is on the spot over a request by Burundi and Somalia to convene an urgent summit of troop contributing countries to discuss withdrawal of the African Union… Read more »

Somalia: East Africans Want Peacekeepers to Stay

East African, 10 March 2018

The troop-contributing countries to peacekeepers in Somalia now want the United Nations Security Council to reconsider its resolution on phased withdrawal issued last September. Read more »
InFocus
Head of the AU mission, Franscisco Madeira, says it will hand over security matters to the army and police after ten years since it first entered the country. Read more »

The government cited the non payment of troops as the main reason for the withdrawal. Read more »