Uganda's Enemies Will Not Survive - Museveni
President Yoweri Museveni's warning to anyone planning to destabilise Uganda, comes as the country's bilateral relations with Rwanda is taking strain, writes The Monitor. Uganda has accused Rwanda of blocking cargo trucks and other vehicles, and stopping Ugandans from crossing into Rwanda at the Katuna border.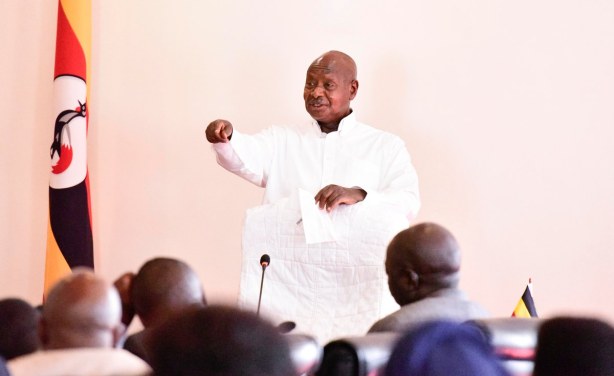 Uganda President Yoweri Museveni.
Rwanda: Border Districts Call for Uganda-Rwanda Talks

Monitor, 11 March 2019

Local leaders in districts neighbouring Rwanda have called for dialogue between President Museveni and his counterpart to avert any loss of lives and property. Read more »

Rwanda: Past Attempts to Talk Away Uganda - Rwanda Tensions

Monitor, 10 March 2019

August 1999, Mweya, Kasese Uganda Read more »

Uganda: Rwandan Family Can't Cross to Bury Daughter

Monitor, 10 March 2019

Jessica (real names withheld on request), a Rwandan national, was on Monday morning, March 4, knocked dead by a truck at Queens Way on Entebbe Road. She was on her way home. Read more »

Rwanda: Tracing Roots of the Uganda, Rwanda Standoffs

Monitor, 10 March 2019

After newly installed DR Congo president Laurent Desire Kabila fell out with some of his countrymen, they formed rebel groups against him. Read more »

Rwanda: America Speaks Out On Rwanda-Uganda Tension

Monitor, 10 March 2019

President Museveni and his Rwandan counterpart Paul Kagame should work to resolve their differences and end the ongoing diplomatic row, America's top diplomat for Africa, said… Read more »

Rwanda: Key Players in Two-Decade Uganda-Rwanda Love, Hate Relations

Monitor, 10 March 2019

UGANDA Read more »
InFocus
The Observer reports that the Rwandan High Commissioner to Kampala, Frank Mugambage , met President Yoweri Museveni. Mugambage had several requests, including the closure of ... Read more »

Uganda has accused Rwanda of blocking cargo trucks and other vehicles, and stopping its nationals from crossing into Rwanda at the Katuna border amid a resurgence of hostility ... Read more »