Surprises, Shocks as Nigerian Governors-Elect Announced
The Independent National Electoral Commission has so far announced the winners of the elections in 20 states. However, the European Union observer mission says that Nigeria's elections need serious reform after they were marred by violence, systemic failings and low turnout. The electoral body declared governorship elections inconclusive in Plateau, Kano, Benue, Adamawa and Sokoto States.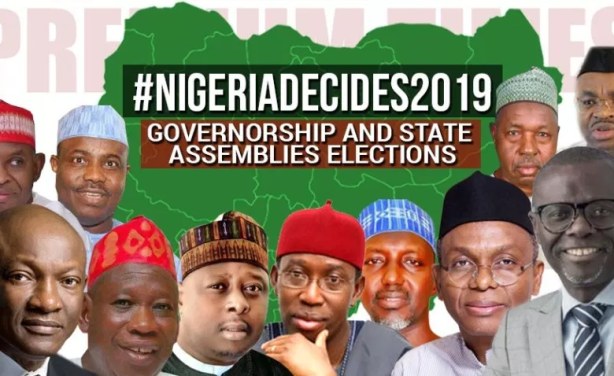 20 governors-elect announced by INEC so far.
Nigeria: 20 Governors-Elect Announced

Premium Times, 11 March 2019

A new class of governors has emerged following the elections in 29 states on Saturday. Read more »

Nigeria: State Elections Marred By 'Systemic Failings'

Deutsche Welle, 11 March 2019

International observers have condemned accusations of violence and intimidation during the highly-contested state elections. State governors wield a considerable amount of power… Read more »

Nigeria: Controversy Over Inconclusive Polls in Opposition Strongholds

Guardian, 12 March 2019

Controversy is raging over the seemingly rampant declaration of elections as inconclusive in places considered as strongholds of the opposition in some parts of the country. Read more »

Nigeria: Electoral Board Declares Kano Governorship Election Inconclusive

Premium Times, 11 March 2019

The Independent National Electoral Commission (INEC) has declared the outcome of Saturday's governorship election in Kano State as inconclusive. Read more »

Nigeria: Imo State Governor Okorocha's Name Missing On List of Senators-Elect

Guardian, 12 March 2019

Imo State governor, Rochas Okorocha, may not get the certificate of return from the Independent National Electoral Commission (INEC) like other senators-elect, as his name is… Read more »

Nigeria: Elections - How Many Votes Did Governors Score?

Daily Trust, 12 March 2019

The Independent National Electoral Commission (INEC) has held the gubernatorial elections in 29 of the 36 states of the federation. Read more »

Nigeria: NBA Releases Second Report On Nigerian Elections

Premium Times, 11 March 2019

The Nigerian Bar Association (NBA) has issued a second interim report on the March 9 governorship elections in the country. Read more »

Nigeria: EU Notes 'Systemic Problems' in Nigeria's Elections

Premium Times, 11 March 2019

The European Union Election Observation Mission (EU EOM) to Nigeria has concluded that the governorship and State House of Assembly elections on March 9 were marred by overall low… Read more »

Nigeria: Re-Election - El-Rufai Thanks Supporters, Promises Better Days

Premium Times, 11 March 2019

The governor of Kaduna State, Nasir El-Rufai, has thanked people of the state for re-electing him for another four years term. Read more »

Nigeria: INEC Declares Kano Election Inconclusive

This Day, 11 March 2019

The Independent National Electoral Commission (INEC) on Monday night declared Saturday's governorship election held in Kano State inconclusive. Read more »

Nigeria: PDP Kicks As INEC Declares Elections Inconclusive in Five States

This Day, 12 March 2019

The Peoples Democratic Party (PDP) has accused the Independent National Electoral Commission (INEC) of being "overtly partisan" and surrendering its independence to the ruling All… Read more »
InFocus
The Anglican Archbishop of Enugu Ecclesiastical Province and Bishop of Enugu Diocese, Emmanuel Chukwuma, has said he was dissatisfied with the turnout of voters at the governorship ... Read more »

Following hot on the heels of the presidential elections which was won by incumbent Muhammadu Buhari, the elections for the governors for 29 of the 36 states as well the state ho Read more »