Ramaphosa to Implement Recommendations of Spy Agency Report?
Lobby group Right2Know has called on South African President Cyril Ramaphosa to implement the recommendations of the explosive report into the State Security Agency. These include the scrapping of the "Secrecy Bill", the creation of a multi-disciplinary team to deal with the criminal investigations and the appointment of a private advocate to conduct internal disciplinary hearings.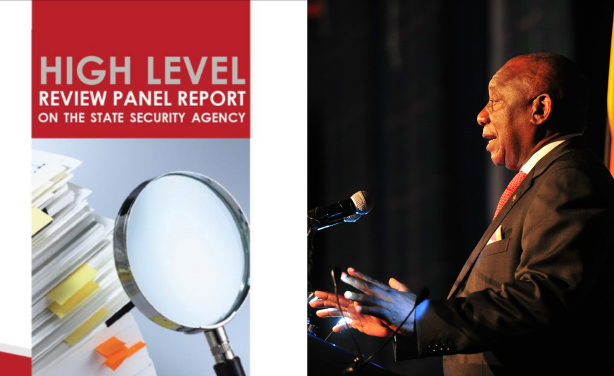 Left: Screenshot from the High-Level Review Panel on the SSA report released by the Presidency. Right: President Cyril Ramaphosa.
South Africa: 'Relaxed' Ramaphosa Faces Calls for Action Over Explosive SSA Report

Daily Maverick, 12 March 2019

As the implications of the high-level review panel report on the State Security Agency continue to ripple through South African society, calls are growing for swift action against… Read more »

South Africa: Spy Wars - Broken Oversight System Let Spies Get Away With Everything

News24Wire, 12 March 2019

Not the auditor general (AG), nor the inspector general of intelligence (IG) or the parliamentary committee tasked with overseeing the country's spying operations could provide a… Read more »

South Africa: Spy Wars - Kasrils Says He Warned ANC About Factions Using Spooks

News24Wire, 11 March 2019

Former intelligence minister Ronnie Kasrils says he feels "vindicated" by the report on the high-level review panel on the State Security Agency (SSA). Read more »

South Africa: Former PAN Boss Arthur Fraser 'Studying' SSA Report

News24Wire, 11 March 2019

National commissioner of correctional services, Arthur Fraser, is "studying" the State Security Agency (SSA) high-level review panel report and cannot comment on it yet. Read more »

South Africa: Ramaphosa Still Studying SSA Report - Presidency

News24Wire, 11 March 2019

As the country absorbs the shocking revelations that have emerged from a bombshell report by the high-level review panel into the State Security Agency, the presidency has… Read more »

South Africa: Spy Wars - How the Zuma Doctrine Broke the State Security Agency

News24Wire, 12 March 2019

Former president Jacob Zuma has, for the umpteenth time, emerged as the central figure in the dismantling of another institution of state - this time the State Security Agency… Read more »
InFocus
A high-level review panel on the activities of the State Security Agency has released its long-awaited report, which highlights alleged rogue intelligence operations driven by ... Read more »

A high-level panel has been appointed to review the State Security Agency. This comes after State Security Minister Dipuo Letsatsi-Duba vowed "to confront allegations of corruption ... Read more »