Is Kenyatta Brokering Peace Between Uganda, Rwanda?
Kenya's President Uhuru Kenyatta paid a brief visit to Uganda and Rwanda amid long-running disputes between those two countries - leading many to believe that he is attempting to reconcile the two feuding neighbours. The standoff between the two countries began when Ugandan trucks had reportedly been stopped at border points, leading authorities to advise traders to travel to Rwanda via the DR Congo. The relationship between the two countries hit a new low when Kigali closed its main border.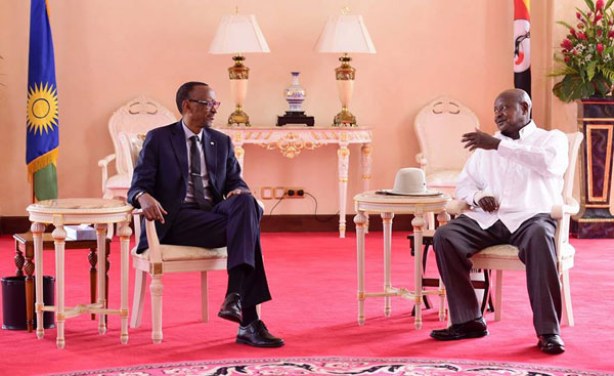 Rwandan president Paul Kagame, left, and his Ugandan counterpart Yoweri Museveni meet at State House Entebbe on March 25, 2018.
Rwanda: Regional Legal Body Set to Reconcile Uganda, Rwanda

Monitor, 13 March 2019

The East African Law Society (EALS) has stepped in to reconcile feuding Uganda and Rwanda. Read more »

East Africa: Closed Borders and Fighting Words - Rwanda and Uganda's Deepening Rift

African Arguments, 12 March 2019

"No one can bring me to my knees," said President Kagame. "Once we mobilise, you can't survive," said President Museveni. Read more »

Rwanda: Time for Rwanda, Uganda Stand-Off Mediation

East African, 9 March 2019

Kigali and Kampala deny it in equal measure, but the fact is that the common border is partially closed. Read more »

Uganda: Uganda, Rwanda Better Off Together Than Divided

Monitor, 10 March 2019

Uganda and Rwanda have more positives that far outweigh the continuing disputes between the two neighbouring countries. Read more »
InFocus
President Yoweri Museveni's warning to anyone planning to destabilise Uganda, comes as the country's bilateral relations with Rwanda is taking strain, writes The Monitor. Uganda ... Read more »

The Observer reports that the Rwandan High Commissioner to Kampala, Frank Mugambage , met President Yoweri Museveni. Mugambage had several requests, including the closure of ... Read more »