What You Need to Know in Aftermath of Ethiopian Airlines Crash
A memorial service has been held in Addis Ababa for the 157 people killed in the crash, and the families of the 17 Ethiopian dead were offered a bag of soil from the crash site to bury as most remains were burnt beyond recognition and will take about six months to be identified. According to reports, compensation will calculated by taking into consideration, the age and profession of the deceased. The country's transport minister has also said that the 'similarities' between this crash and Lion Air crash are 'clear'.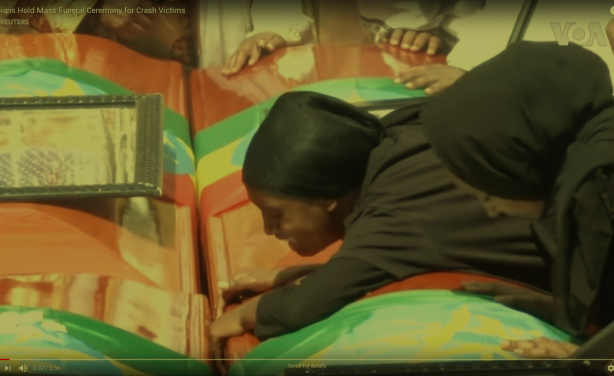 The funeral that was held for Ethiopian victims of the airline tragedy.
Ethiopia: Ethiopian Airlines Crash Had 'Clear Similarities' With Lion Air Crash

Deutsche Welle, 17 March 2019

Black box data from last weekend's Ethiopian Airlines plane crash has indicated "clear similarities" with October's Lion Air jet crash. The MAX 8 crashed shortly after takeoff,… Read more »

Ethiopia: Boeing Finalising Software Update for 737 MAX Planes

Boeing, 17 March 2019

March 17, 2019 – Boeing Chairman, President and CEO Dennis Muilenburg issued the following statement regarding the report from Ethiopian Transport Minister Dagmawit Moges… Read more »

Ethiopia: Ethiopians Hold Mass Funeral for Plane Crash Victims

Deutsche Welle, 17 March 2019

A memorial service has been held in Addis Ababa for the 157 people killed in last week's Ethiopian Airlines crash. Investigators hope the plane's black box recorders will reveal… Read more »

Kenya: Details of Ethiopian Airlines Planned Payout to Victims' Families

Nairobi News, 17 March 2019

Details of how much families of the victims of the ill-fated Ethiopian Airlines plane which crashed a week ago will be compensated have been revealed. Read more »

Ethiopia: Why Ethiopian Airlines Has Offered Grieving Plane Crash Victims Soil to Bury

Nairobi News, 17 March 2019

Ethiopian Airlines has offered the grieving families of 157 victims of last Sunday's Boeing 737 Max plane crash sacks of earth to bury in place of their loved ones. Read more »

Africa: Crash Victims' Families May Sue Boeing - Report

allAfrica, 15 March 2019

The families of the 157 people who died in the Ethiopian Airlines plane crash on Sunday may sue the aircraft manufacturer, Boeing and its insurers, for compensation to the tune of… Read more »

Ethiopia: Black Boxes From Crashed Ethiopian Airlines Flight Arrive in France

RFI, 14 March 2019

Black box data recorders from Ethiopian Airlines flight 302 have arrived in France for analysis with the hope of determining what brought down the Boeing 737 Max jet on Sunday near… Read more »