Life After the Storm - How Cyclone Idai is Playing Out
Cyclone Idai has caused widespread devastation across south-east Africa with emergency food aid, donations and a climbing death toll marking what the United Nations called "one of the worst" disasters in the Southern Hemisphere.
Photo Essay
Picture 1 of 19

More than a thousand people are feared to have died in a cyclone that smashed into Mozambique, while scores were killed and more than 200 are missing in neighboring Zimbabwe and Malawi. see more »
Mozambique: Govt Declares Emergency After Cyclone Idai

AIM, 20 March 2019

The Mozambican government on Tuesday decreed a national emergency, following the devastation caused by cyclone Idai in the centre of the country. Read more »

Mozambique: Almost 450 People Have Died in Zambezia Floods - Governor

AIM, 20 March 2019

Flooding in the central Mozambican province of Zambezia has taken 444 lives, according to the provincial governor, Abdul Razak, cited in a Wednesday press release from the… Read more »

Mozambique: First Impressions of the Devastation After Cyclone Idai in Mozambique

MSF, 20 March 2019

In the wake of the devastation that Cyclone Idai caused across Mozambique, Malawi and Zimbabwe over recent days, MSF has launched an Emergency Response system and the first teams… Read more »

Southern Africa: Cyclone Idai Aid Arrives in Zimbabwe From UAE, Tanzania

The Herald, 20 March 2019

Zimbabwe has started receiving support from countries in the region and far afield, with a planeload of assistance arriving yesterday from Tanzania while a huge consignment is due… Read more »

Mozambique: 1000s Trapped on Roofs & in Trees Awaiting Rescue

Mozambique News Reports And Clippings, 20 March 2019

Flooding is now the major crisis in Mozambique, with at least 400 sq km flooded according to European Union satellite imagery. But heavy cloud cover and continuing rain makes even… Read more »

Zimbabwe: Minister Taken to Task Over Poor Handling of Deadly Cyclone

New Zimbabwe, 20 March 2019

LOCAL Government Minister July Moyo was Tuesday taken to task by MPs over alleged failure to prepare and minimise the massive damage caused by the recent deadly Cyclone Idai in… Read more »
Video
Publisher:

Publication Date:

19 March 2019

The death toll has risen to at least 215 after Cyclone Idai tore into central Mozambique before continuing on to Malawi and Zimbabwe, bringing flash ... see more »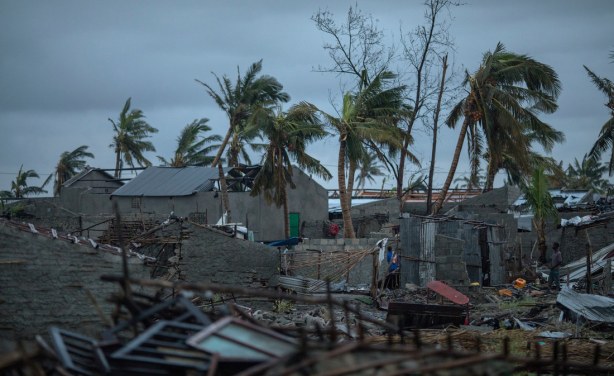 Beira in Sofala Province, central Mozambique where Cyclone Idai made landfall.