Cyclone Idai Relief Concert for Zimbabwe - Music for a Good Cause
When Cyclone Idai struck the Southern African countries of Mozambique, Malawi and Zimbabwe, saw hundreds of people die, and many are still missing. The cost of the destruction of homes and infrastructure is worth millions of dollars. Now local Zimbabwean pop stars Sandra Ndebele, Tendai Chimombe, Ti Gonzi and Ba Shupi are among artists set to perform a benefit concert to raise funds for the victims of the natural disaster.
Zimbabwe: Musicians in 'Cyclone Relief Concert'

The Herald, 20 March 2019

Local musicians have joined hands with various arts associations, City of Harare, private companies and non-governmental organisations (NGOs) to mobilise resources for victims of… Read more »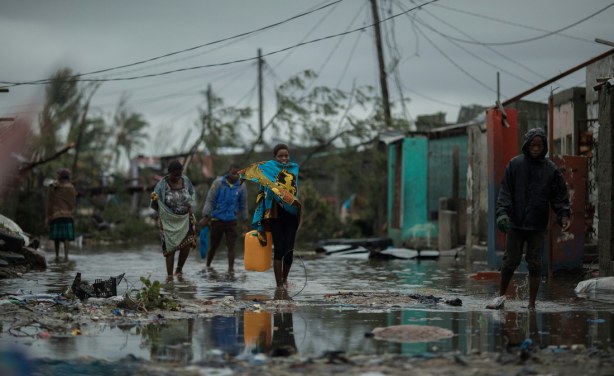 Praia Nova Village was one of the most affected neighborhoods in Beira. Being a located on the coast, this shanty town of loosely built homes were extremely vulnerable to the high winds and rain. Following the cyclone families are returning trying to pick up the pieces of their lives.
Zimbabwe: Musicians Failed Cyclone Victims, Says Weutonga Ahead of Charity Concert

New Zimbabwe, 19 March 2019

Zimbabwe Afro Jazz artist, Edith Weutonga on Tuesday blamed fellow musicians for letting the nation down through failure to use their artistic talents to raise awareness and… Read more »

Zimbabwe: Artists Join Efforts to Assist Cyclone Victims

New Zimbabwe, 19 March 2019

Zimbabwean artists have come forward to offer relief to families affected by cyclone Idai, which is wreaking havoc in the south eastern parts of the country. Read more »

Zimbabwe: National Arts Merit Awards Deferred to Next Month

The Herald, 21 March 2019

The 18th edition of the National Arts Merit Awards (NAMA), which was scheduled for Saturday, has been postponed to next month. Read more »

Zimbabwe: Citizens Unite to Ease Cyclone Idai's Effects

VOA, 20 March 2019

Zimbabweans have started raising funds and donating goods to provide relief to those who have been affected by Cyclone Idai, which the government says has killed nearly 100 people… Read more »

Zimbabwe: Mnangagwa Declares Two Days of National Mourning

New Zimbabwe, 22 March 2019

PRESIDENT Emmerson Mnangagwa has declared two days of national mourning, following the death and destruction caused by Cyclone Idai in the south eastern districts of Manicaland,… Read more »

Zimbabwe: Macheso, Jah Prayzah Join Relief Efforts for Cyclone Idai

The Herald, 18 March 2019

Following the disaster that struck some parts of the country due to the ravaging Cyclone Idai, musicians have joined the campaign to mobilise aid for victims. Read more »