Another Lagos Building Collapses
The building on Lagos Island, was on the list for demolition and fortunately all occupants had moved out. The collapse comes barely two weeks after the Itafaji building collapse, also on Lagos Island, that housed a school and that claimed 20 lives.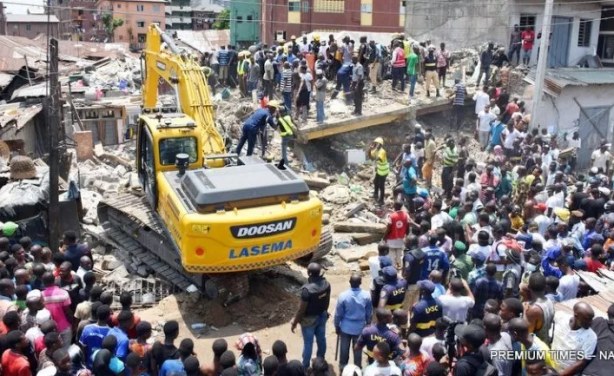 A rescue team search for more victims from the scene of a building, which collapsed at Itafaji on the Lagos Island (file photo).
Nigeria: Another Building Collapses in Lagos

Premium Times, 25 March 2019

Another building has collapsed in Lagos Island part of Lagos State. Read more »

Nigeria: Why Buildings Keep Collapsing in Lagos

The Conversation Africa, 26 March 2019

There's been a spate of building collapses in Lagos, Nigeria. In some cases, people have died. In one instance a building had been marked for demolition at least three times. There… Read more »

Nigeria: Building Collapse - Buhari Vows to Sanction Defaulters

Premium Times, 26 March 2019

President Muhammadu Buhari has expressed concern over the incessant building collapses across the country, warning that those responsible for such incidents of professional… Read more »

Nigeria: Two Kids Injured, 20 Others Unhurt in Another Building Collapse in Lagos

This Day, 26 March 2019

Two kids were yesterday injured as another three-storey building, which was already marked for demolition, collapsed at Kakawa Street, Lagos Island. Read more »

Nigeria: Two Injured in Another Collapse Lagos Building

Guardian, 26 March 2019

Two persons yesterday sustained varying degrees of injuries after another three-storey building collapsed in Lagos Island. The incident, which occurred at No. 50 Kakawa Street, has… Read more »

Nigeria: Scores Trapped in Another Building Collapse in Lagos

Daily Trust, 25 March 2019

Another two-storey building on Monday reportedly collapsed along Kakawa street, Lagos Island leaving a yet to be ascertained number of persons trapped. Read more »

Nigeria: How to Curb Incessant Building Collapse in Lagos - Experts

Premium Times, 25 March 2019

The Building Collapse Prevention Guild (BCPG) on Monday called on the Nigerian government to address the menace of building collapse and sub-standard construction across the… Read more »
InFocus
Anguished families have protested against the authorities' decision to call off the search for survivors. Lagos State Governor Akinwunmi Ambode has said that the building which was ... Read more »

Lagos State Emergency Management Agency has said that at least 40 pupils have been rescued from the collapsed building. Residents have said that approximately 100 children attends ... Read more »