Cases of Cholera Confirmed in Cyclone-Ravaged Mozambique
The first cases of cholera have been reported in the Mozambican city of Beira, complicating an already massive and complex emergency in the southern African country. The announcement of five cases of the waterborne disease follows days of mounting fears that cholera and other diseases could break out in the squalid conditions in which tens of thousands have been living since Cyclone Idai struck on 14 March, killing at least 700 people across the region.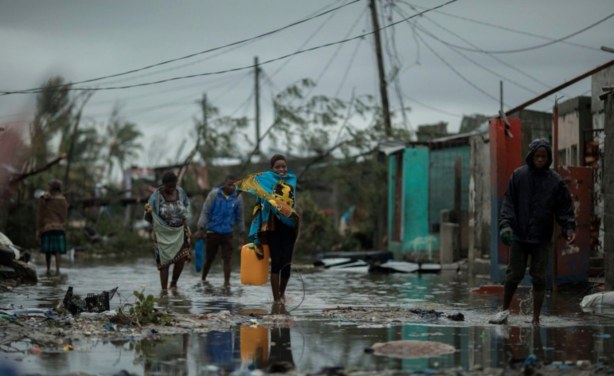 Praia Nova Village was one of the most affected neighborhoods in Beira. Being a located on the coast, this shanty town of loosely built homes were extremely vulnerable to the high winds and rain. Following the cyclone families are returning trying to pick up the pieces of their lives.
Malawi: Cyclone Idai Triggers Sexual Health Crisis

CAJ News, 27 March 2019

About 500 000 women and girls urgently require sexual and reproductive health services in the wake of destructive floods caused by Cyclone Idai in Malawi. Read more »

Mozambique: Cases of Cholera Reported in Mozambique

News24Wire, 24 March 2019

Residents of Mozambique's cyclone-hit Beira are now facing a new set of challenges of a possible Cholera outbreak. Read more »

Mozambique: Flooding and Response: Both Enormous in Scale

MSF, 27 March 2019

More than a million people are struggling to rebuild their lives in flood-affected parts of Mozambique, many of whom are in urgent need of assistance for the basics to survive. The… Read more »

Mozambique: Waterborne Disease Threatens Relief Efforts in Cyclone-Hit Mozambique

RFI, 26 March 2019

Survivors of devastating Cyclone Idai that hit southern Africa face an increasing risk of waterborne disease as relief efforts begin to reach remote areas of Mozambique. The UN has… Read more »

Southern Africa: MSF Scales Up Response to Cyclone Idai

MSF, 26 March 2019

As more than a million people struggle to rebuild their lives in flood-affected parts of Mozambique following Cyclone Idai, emergency teams with the international medical… Read more »

Southern Africa: U.S. Responds to Cyclone Idai with Assistance

State Department, 26 March 2019

Excerpts from Department Press Briefing by Robert Palladino, Deputy Spokesperson Read more »

Mozambique: Idai Corpses Could Have Been Swept Into Indian Ocean

CAJ News, 26 March 2019

There are fears some people killed during floods in Zimbabwe have been swept away into neighbouring Mozambique and into the Indian Ocean. Read more »

Mozambique: Viettel Becomes the Only Telecommunications Provider to Recover Services in Mozambique Following Intense Tropical Cyclone Idai

PR Newswire, 27 March 2019

Movitel, a Viettel brand, has become the first and only telecommunications provider to generally recover its services in Mozambique following the devastating Intense Tropical… Read more »

Uganda: Govt Gives U.S.$200,000 to Cyclone-Ravaged Mozambique

Monitor, 26 March 2019

Uganda has sent $200,000 (Shs740m) as financial assistance for the storm victims in Mozambique. Read more »

Mozambique: 90,000 in Sofala Flood Zone; Water Dropping Only Slowly

Mozambique News Reports And Clippings, 25 March 2019

Edinburgh University researchers estimate that 90,000 people were caught in the giant flood west of Beira. This "inland sea" is 120 km long and up to 30 km wide. This is the area… Read more »

Mozambique: Cyclone Idai - Unicef Warns of 'Race Against Time' to Protect Children, Prevent Spread of Disease in Flood-Ravaged Mozambique

UN News, 23 March 2019

A week after the flooded Mozambican port of Beira was hit by Cyclone Idai, "aid agencies are barely beginning to see the scale of the damage", the head of UNICEF said on Saturday,… Read more »
InFocus
Although the scale of Cyclone Idai's destruction remains unclear, Unicef says nearly half of the 1.7 million people affected by the tropical cyclone in southern Africa are ... Read more »

Although experts have said it was too early to draw specific conclusions from Idai, for a continent already wracked by the effects of climate change, the Tropical Cyclone has been ... Read more »