Africa is a Country, We Don't Want Votes from Xenophobes - Malema
Economic Freedom Fighters leader Julius Malema has called on all Africans to unite and said those who are xenophobic and disagreed with his party to 'keep their votes'. This comes after International Relations and Cooperation Minister Lindiwe Sisulu called for an urgent meeting with African ambassadors following reports of violence against foreign nationals in parts of South Africa.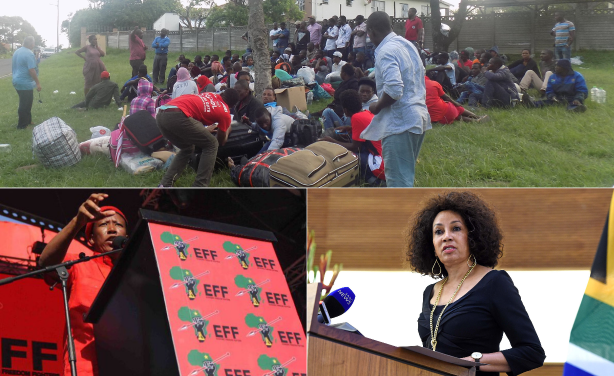 Top: Dozens of foreign nationals, mostly from Malawi, who slept outside in Sydenham. Bottom-left: EFF leader Julius Malema. Bottom-right: Minister of International Relations and Cooperation Lindiwe Sisulu.
InFocus
Zimbabweans say they are living in fear of xenophobic attacks in South Africa after "reckless" statements made by President Cyril Ramaphosa at his party's election campaign rally. ... Read more »

About 100 foreign nationals, mostly from Malawi, have blamed government officials for a series of xenophobic attacks after they were forced to sleep in an open space near Sydenham ... Read more »