Harvest of Medals for African Stars at 2019 Special Olympics
African countries that were represented at the Special Olympics in Abu Dhabi, saw their athletes do so with pride - many returning home with their baggage much heavier with several medal wins. Among some winners were Nigeria with 63 medals, Sudan with 40 medals and Uganda with nine medals.
Nigeria: Parents, Sponsors Extol Team Special Olympics Nigeria's Feat

Guardian, 30 March 2019

Parents and guardians of the Special Olympics (SO) Nigeria athletes have hailed the performances of the their wards who took part in the just concluded World Summer Games held in… Read more »

Nigeria: Harvest of Medals for Team Nigeria

Vanguard, 30 March 2019

A group of young Nigerians often neglected and relegated to the background by society due to no fault of theirs, were in far away Abu Dhabi, United Arab Emirates, writing the… Read more »

Nigeria: Team Nigeria Back From Special Olympics With 63 Medals

This Day, 28 March 2019

Special Olympics Nigeria (SON) athletes returned victorious from the 2019 World Summer Games in Abu Dhabi with 63 medals. Read more »

Zimbabwe: Triumphant Special Olympics Team Returns

The Herald, 21 March 2019

THE Zimbabwe team, which wrote a successful story at the 2019 Special Olympics World Summer Games in the United Arab Emirates, is scheduled to return home this morning. Read more »

Rwanda: Kajeje Wins Gold at Special Olympic World Games

New Times, 20 March 2019

Team Rwanda has far collected six medals at the ongoing Special Olympics World Games in Abu Dhabi, including Bosco Kajeje's gold medal in long jump on Tuesday. Read more »

Liberia: Liberia Wins First Gold Medal At Special Olympics in Abu Dhabi

Observer, 18 March 2019

Ehiabom Salim Assaf (middle) finished first within 28.86 seconds in the 200-meter final at the Special Olympic World Games in Abu Dhabi. Read more »

Uganda: Govt Yet to Reward Special Olympics Medallists

Monitor, 29 March 2019

The waiting uncomfortably goes on as medallists from the 15th edition of the Special Olympics World Games that concluded last week in Abu Dhabi are yet to be rewarded. Read more »

Sudan: Athletes Collect 40 Medals in the Abu Dhabi Special Olympics

SudaNow, 2 March 2019

Sudanese athletes competing in the recent Special Olympics in Abu Dhabi, United Arab Emirates, have scored spectacular results, winning a total of 40 medals, including 25 gold… Read more »
2019 Special Olympics, Abu Dhabi

Special Olympics participants , Abu Dhabi 2019

Special Olympics 2019 closing ceremony in Abu Dhabi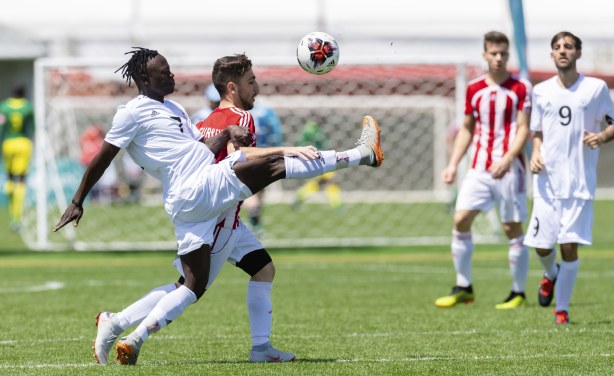 When Gerald Mballe, 20, escaped his homeland Cameroon for a better life, he never thought he would be representing his adopted nation at a global sporting event four years later.