Ace Magashule Corruption Allegations Nothing but Fake News - ANC
News reports on Ace Magashule's alleged involvement in illegal dealings are "fake news" and "propaganda" the South African ruling party has said. This comes after a new book, Gangster State: Unraveling Ace Magashule's Web of Capture written by investigative journalist Pieter-Louis Myburgh, placed Magashule at the "head of a well-organised state-capture network".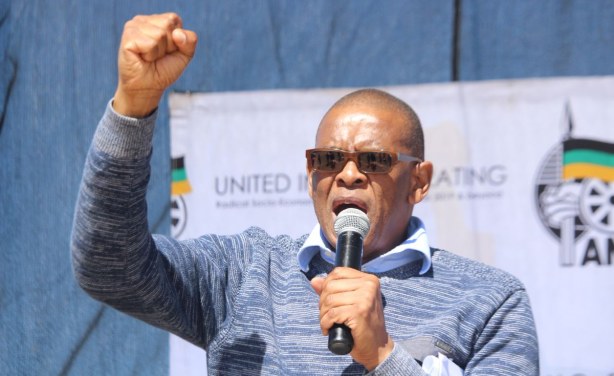 ANC Secretary General Ace Magashule (file photo).
South Africa: Doing As He Pleases - 'Ace Slaughtered 32 State-Owned Cattle to Ensure Political Support'

News24Wire, 31 March 2019

Ace Magashule brazenly ordered the slaughter of 32 cattle that belonged to the Free State provincial government's Glen Agricultural College in order to influence delegates to… Read more »

South Africa: New Book Lays Bare Ace Magashule's Free State Fiefdom

Daily Maverick, 31 March 2019

Corruption allegations have long trailed ANC secretary general Ace Magashule, but nothing has ever seemed to stick. In Daily Maverick journalist Pieter-Louis Myburgh's new book… Read more »

South Africa: Leaked Emails, Dirty Cops, State Capture and Ace Magashule Unveiled

Daily Maverick, 31 March 2019

In this explosive book, Gangster State: Unravelling Ace Magashule's web of capture, investigative journalist Pieter-Louis Myburgh ventures deeper than ever before into Ace… Read more »

South Africa: 'Mr 10%' - How Ace Magashule Captured the Free State

News24Wire, 31 March 2019

ANC secretary-general Ace Magashule has stood at the "head of a well-organised state-capture network" in the Free State for almost a decade. Read more »

South Africa: Pressure Mounts On Alleged Free State Capture Masterminds

News24Wire, 1 April 2019

Pressure is mounting on the main role players allegedly linked to the capture of the Free State province. Read more »

South Africa: Ace Took Bloem Mayor to Meet His 'Partner' Atul Gupta Twice in Saxonwold

News24Wire, 31 March 2019

The ANC's secretary-general Ace Magashule twice drove former Bloemfontein mayor Thabo Manyoni to meet with Atul Gupta in Johannesburg to make sure the Guptas could work with him… Read more »

South Africa: House of Cards - the Curious Case of Ace Magashule's Upmarket Pad

Daily Maverick, 28 March 2019

In 2015, then Free State Premier Ace Magashule had to quash a minor controversy over issues with building regulations at a new R6-million house in Bloemfontein. At the time,… Read more »
InFocus
South African ruling party the African National Congress has applied to question former Bosasa chief Angelo Agrizzi at the commission of inquiry into state capture. Environmental ... Read more »

Bosasa, a company that won government tenders to run prisons and youth detention centres in the country, has been exposed at the Zondo Commission of Inquiry into state capture. T Read more »