Insecurity, Community Mistrust Stifling DR Congo Ebola Fight
The World Health Organization reports an increase in the number of Ebola cases. It says there were 72 recorded cases last week, compared to 56 cases the week before. An earlier report by The International Rescue Committee puts the number of confirmed and suspected cases at over 1,000 since the outbreak started.
Congo-Kinshasa: Aid Groups Struggle to Fight Ebola Virus

Deutsche Welle, 4 April 2019

The Ebola outbreak in eastern Democratic Republic of the Congo has become difficult to contain. Many locals distrust health authorities trying to combat the epidemic, which poses a… Read more »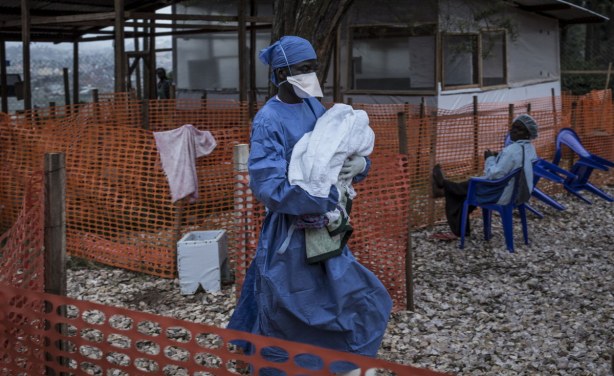 A caretaker already cured from Ebola is seen carrying a four day old baby suspected of having ebola, into a MSF supported Ebola Treatment Centre(ETC) in Butembo.
Congo-Kinshasa: Insecurity, Community Mistrust Stymie Efforts to Control Ebola Epidemic

VOA, 3 April 2019

The World Health Organization says insecurity and community mistrust in the Democratic Republic of Congo's conflict-ridden North Kivu Province are major impediments to… Read more »

Congo-Kinshasa: Factbox - From Attacks to Deaths, Key Facts About Congo's Escalating Ebola Epidemic

Thomson Reuters Foundation, 25 March 2019

By March 2019 Congo's Ebola outbreak surpassed 1,000 cases with a death toll of 629 and spread to the city of Bunia, the second-largest city in eastern Congo Read more »

Congo-Kinshasa: Public Mistrust Thwarts Ebola Response As Cases Climb

Thomson Reuters Foundation, 27 March 2019

A quarter of people surveyed in Democratic Republic of Congo's Ebola hotspots believed the virus was not real, a study said on Wednesday, as the world's second-biggest outbreak… Read more »

Congo-Kinshasa: Ebola Cases Rising, but UN Health Agency Cites Progress in Community Trust-Building

UN News, 29 March 2019

A rise in new cases of deadly Ebola virus disease in eastern Democratic Republic of the Congo (DRC) has been announced, while authorities say that progress is being made in… Read more »

Congo-Kinshasa: Attacks on Ebola Treatment Centres Worry Aid Agencies

The New Humanitarian, 26 March 2019

As the world's second-deadliest Ebola outbreak ever continues to ravage communities in the Democratic Republic of Congo, international aid groups are reconsidering the way they… Read more »

Congo-Kinshasa: DRC Ebola Eruption Nears 1 000 Cases

CAJ News, 27 March 2019

THE Ebola outbreak in the Democratic Republic of Congo (DRC) is approaching 1 000 cases amid increased violence by armed groups. Read more »
InFocus
The International Rescue Committee says the number of confirmed and suspected cases since the latest outbreak began in August exceeds 1,000 and it could last as long as another ... Read more »

The World Health Organization's Director-General Tedros Adhanom Ghebreyesus says enough progress has been made and believes the Ebola outbreak in Congo's North Kivu and Ituri ... Read more »

Part of the response to the current outbreak has been to try out new drug regimes. As such, research is playing a critical role as efforts are made to establish their efficacy. But ... Read more »