Fighting Rages Near Tripoli as UN Ceasefire Attempt Fails
Intense fighting between pro-government forces and militias loyal to Libyan strongman Khalifa Haftar continued late into Sunday despite attempts by the United Nations to secure a temporary ceasefire. Haftar's forces launched a military offensive to capture the Libyan capital of Tripoli last week, threatening to send the conflict-ridden country into further chaos.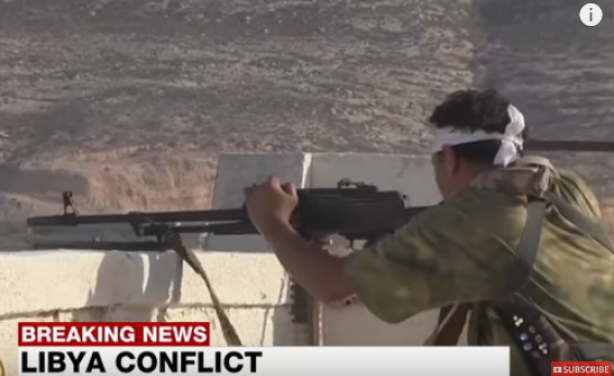 Fighting in Libya on April 6, 2019.
Libya: U.S. Pulls Forces Amid Fighting Near Capital

Deutsche Welle, 7 April 2019

US army officials have announced a withdrawal of troops from the North African nation. Increased fighting has raised prospects of renewed civil war in the country. Read more »

Libya: International Calls for Calm

RFI, 6 April 2019

G7 foreign ministers meeting in Dinard, in France on Friday urged an immediate halt to "all military activity and movements toward Tripoli" adding that civilians were in danger.… Read more »

Libya: Threat of Tripoli Fighting Raises Atrocity Concerns

HRW, 6 April 2019

All forces taking part in fighting around Libya's capital, Tripoli, should take all necessary action to minimize civilian harm and abide by the laws of war, Human Rights Watch said… Read more »

Libya: Fighting Will Not Deter UN Conference As Haftar Rejects Road Map

RFI, 6 April 2019

The UN special envoy to Libya announced on Saturday there would be no delay to the UN-backed conference planned for a week from Sunday despite the ongoing fighting. Read more »

Libya: World Powers Demand End to Military Campaign

Deutsche Welle, 6 April 2019

The G7, UN, and Russia have all called for strongman Khalifa Hifter to stop his march on Tripoli. However, an upcoming peace conference is still set to go ahead. Read more »

Libya: Haftar Forces Thwarted As Offensive to Take Tripoli Begins

RFI, 5 April 2019

Forces loyal to Libyan strongman Khalifa Haftar on Thursday encircled Tripoli in a long-anticipated push to take the capital and wrest power away from the Western-backed… Read more »

Libya: UN Security Council Calls On Eastern Libya Forces to Halt Offensive On Tripoli

Deutsche Welle, 5 April 2019

The UN Security Council has called for a halt to military movements in Tripoli following an offensive by eastern forces on the capital. Read more »

Libya: Germany Calls Emergency UN Security Council Talks

Deutsche Welle, 5 April 2019

The German government has called a UN summit after Field Marshal Haftar advanced on Libya's capital. There are fears that Haftar intends to overthrow the UN-backed state and… Read more »

Libya: Army Commander Orders Forces to Advance on Tripoli

allAfrica, 5 April 2019

Libyan army commander Khalifa Haftar has ordered his eastern military forces to advance on Tripoli, the capital of the UN-backed government, Aljazeera reports. Read more »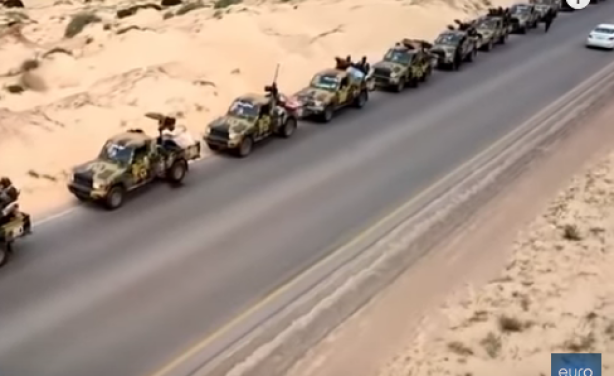 Libya National Army vehicles on a road in Libya.
InFocus
The UN mission in Libya says a ceasefire was signed with militia groups in Tripoli to end all hostilities, protect civilians and safeguard public and private property. At least 50 ... Read more »