Rwandans Mark 25th Anniversary of 1994 Genocide
Thousands of Rwandans marked the 25th anniversary of the country's 1994 genocide in a sombre ceremony on Sunday. President Paul Kagame and his wife Jeannette laid wreaths at a mass burial ground where 250,000 victims have been laid to rest. Leaders from across Africa, the European Union, and Canada also took part.
Rwanda: Rwanda Marks 25 Years Since Genocide

Deutsche Welle, 7 April 2019

"What happened here will never happen again," said President Paul Kagame. The country will mark the deaths of 800,000 people with a candlelight vigil in a stadium that once… Read more »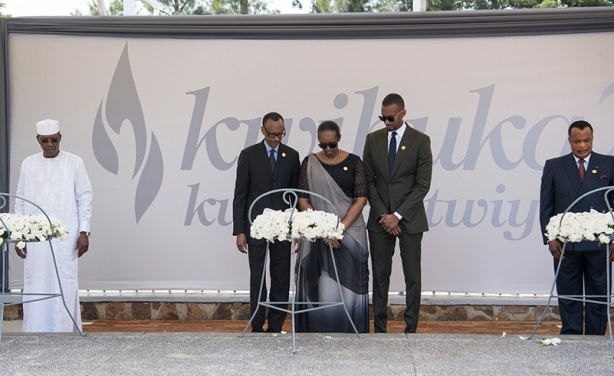 President Paul Kagame and First Lady Jeannette Kagame, flanked by first son, Ivan Kagame, are joined by Presidents Idriss Déby Itno of Chad, far left, and Denis Sassou Nguesso of Republic of Congo, far right, in laying wreaths and honouring victims of the 1994 Genocide against the Tutsi, at Kigali Genocide Memorial, on Sunday morning.
Rwanda: 25 Years Later, Nation and World Remember Genocide Against the Tutsi

New Times, 7 April 2019

Rwandans in the country and across the world joined by the rest of the global community will today mark the 25th commemoration of the 1994 Genocide against the Tutsi. Read more »

Rwanda: Kwibuka25 - Russian Lawmakers Join Rwandans to Commemorate

New Times, 7 April 2019

The president of the Senate, Bernard Makuza, has asked Russian members of parliament to leverage the strength of their country into helping arrest genocide fugitives around the… Read more »

Rwanda: Genocide Survivors Tormented By Horrors 25 Years On

Thomson Reuters Foundation, 6 April 2019

During the genocide as many as 10,000 people were killed daily. Seventy percent of the Tutsi population was wiped out and over 10 percent of the total Rwandan population Read more »

Rwanda: Factbox - Rwanda Remembers the 800,000 Killed On 25th Anniversary of Genocide

Thomson Reuters Foundation, 6 April 2019

Rwanda embarks on a week of commemoration activities and 100 days of national mourning on Sunday to mark the 25th anniversary of the genocide in which 800,000 people - one tenth of… Read more »

Rwanda: Macron Orders Probe Into France's Role in Genocide

Deutsche Welle, 5 April 2019

The French president has named a commission to investigate France's role in the 1994 killings. More than 800,000 people, mostly ethnic Tutsis, were murdered in a genocidal campaign… Read more »
InFocus
Authors have said works of literature on the subject should seek to among other things educate the world, especially the youth, on the 1994 Genocide, the execution, consequences ... Read more »