Report of Gaddafi Fortune in South Africa Just a 'Ghost Story'?
Lindiwe Sisulu has dismissed a report by the Sunday Times which alleges that a fortune belonging to late Libyan leader Muammar Gaddafi worth U.S.$30 million made its way from a bunker in former president Jacob Zuma's Nkandla residence to Eswatini.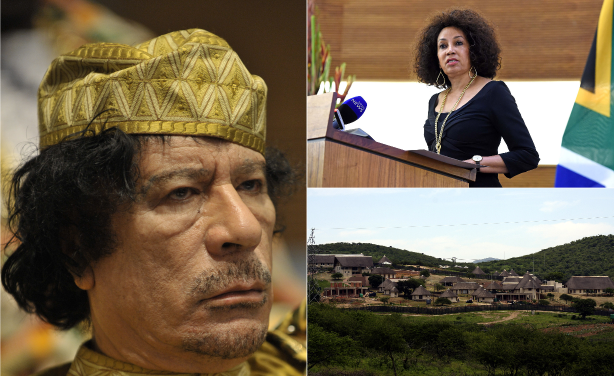 Left: Former Libyan leader Muammar Gaddafi. Top-right: Minister of International Relations and Cooperation Lindiwe Sisulu. Bottom-right: Former president Jacob Zuma's homestead in Nkandla.
Africa: Africa/Global - Following the Money

AfricaFocus, 10 July 2017

"As an important tool in our fight against corruption, tax evasion, terrorist financing and money laundering, we will advance the effective implementation of the international… Read more »
InFocus
Bashir Saleh Bashir, former chief of staff and reputed "banker" to the late Libyan leader Muammar Gaddafi, was shot in Johannesburg and the incident has again raised questions ... Read more »