Nigerian Leaders Urged to Watch Words as State Attacks Intensify
The states of Zamfara, Katsina, Rivers and Kaduna, have come under repeated attack by gunmen, leaving many dead and properties destroyed. President Muhammadu Buhari has urged religious and traditional rulers to be cautious in their comments so that attacks does not increase.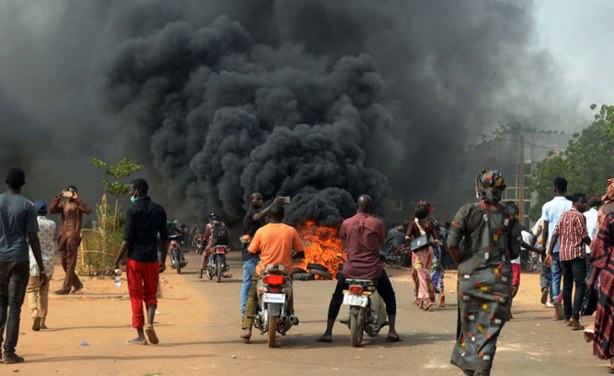 Scene of a violent attack in Kaduna State (file photo).
Nigeria: Buhari Orders Clampdown On Bandits, Kidnappers, Others

Guardian, 12 April 2019

President Muhammadu Buhari yesterday gave a marching order to security operatives to deal ruthlessly with bandits terrorising Zamfara State and its environs. He equally sanctioned… Read more »

Nigeria: Lawmakers Urge Buhari to Address the House, Nation Within 48 Hours

Guardian, 11 April 2019

Disturbed by the resurgence of killings by alleged herdsmen and bandits across the country, the House of Representatives request President Muhamnadu Buhari to address the House and… Read more »

Nigeria: Buhari Orders Security Chiefs to Deal Ruthlessly With Bandits

This Day, 12 April 2019

President Muhammadu Buhari Thursday in Abuja ordered the service chiefs and the acting Inspector-General of Police (IG), Mr. Mohammed Adamu, to deal ruthlessly with armed bandits… Read more »

Nigeria: Many Killed As Vigilantes, Bandits Clash in Katsina

Daily Trust, 9 April 2019

Many people have been killed in a clash between vigilantes and bandits in Tsamiyar Jino village in Kankara Local Government Area of Katsina State. Read more »

Nigeria: Buhari Summons Security Chiefs Following Mass Killings

Vanguard, 11 April 2019

Nigerian President Muhammadu Buhari summoned his top security chiefs to a closed- doors meeting on Thursday, facing rising pressure to address worsening security, especially in his… Read more »

Nigeria: Reps Give Buhari 48 Hours to Unravel Killers

Daily Trust, 11 April 2019

The House of Representatives has given President Muhammadu Buhari 48 hours to address Nigerians on his plans to effectively unravel and deal with killers across the country. Read more »

Nigeria: Zamfara Killings - Perpetrators From Burkina Faso, Chad, Niger, Others - Miners

Vanguard, 10 April 2019

Miners Association of Nigeria, MAN, yesterday claimed the bandits and illegal miners were mostly from neighboring countries of Burkina-Faso, Chad, Niger and Ghana armed with… Read more »

Nigeria: Senate Raises the Alarm Over Increasing Wave of Violence

This Day, 11 April 2019

The Senate Wednesday raised the alarm over increasing level of violence across the country, saying government needs to take urgent steps to address the menace. Read more »

Nigeria: Gunmen Kill 21 in Kaduna - Police

Premium Times, 9 April 2019

The police in Kaduna on Tuesday said armed men riding on motorbikes killed 21 persons at Banono and Angwan AKU communities in Kufana district of Kajuru Local Government Area. Read more »

Nigeria: Senate Condemns Killings - Insists On State Police

Vanguard, 11 April 2019

Worried by the increasing insecurity in the country, the Senate yesterday, reiterated its call for the establishment of state police if the problem must be nipped in the bud, just… Read more »

Nigeria: Death Toll Rises As Vigilantes, Bandits Clash Escalates in Katsina

Daily Trust, 10 April 2019

Bandits yesterday killed dozens of civilians at Dandume and Sabuwa Local government areas as clashes between local vigilantes with the bandits escalated in Katsina. Read more »

Nigeria: Killings - Buhari Cuts Dubai Visit Short, Returns to Abuja

Premium Times, 10 April 2019

President Muhammadu Buhari returned to Abuja on Tuesday night, a day ahead of schedule. Read more »

Nigeria: Police Confirm Killing of 21, Rustling of 50 Cows in Kajuru

Vanguard, 9 April 2019

The Kaduna State Police Command on Monday confirmed the Killing of 21 persons and rustling of 50 cows in an attack by gunmen in Banono and Anguwan Aku villages in Kajuru Local… Read more »

Nigeria: Traditional Rulers Behind Zamfara Killings, Says Govt

Guardian, 10 April 2019

The Federal Government yesterday disclosed that persons in the upper echelons of Zamfara were complicit in the recent spate of killings in the state. Read more »

Nigeria: Boko Haram Attacks Damaturu

Premium Times, 9 April 2019

Reports reaching PREMIUM TIMES from sources in Damaturu, Yobe State capital indicate that the city is currently under attack by suspected Boko Haram insurgents. Read more »

Nigeria: How Soldiers Ambushed, Killed Boko Haram Fighters in Damaturu - Official

Premium Times, 10 April 2019

The Nigerian Army has explained what transpired during the attack on Damaturu, the capital of Yobe State, by suspected Boko Haram terrorists on Tuesday evening. Read more »
InFocus
Authorities has said that the move is part of the government's attempts at bringing peace to Zamfara State. It is reported that the violence and killings have been fuelled by the ... Read more »