Could Uganda Electoral Reforms Delay Fuel Voter Apathy?
There is uncertainty and confusion over the scheduled 2021 elections due to an absence of electoral reforms, lack of funding for the road map and an opposition locked in supremacy wars. The Minister for Justice and Constitutional Affairs Kahinda Otafiire told parliament that the government is not ready to table the much needed electoral reforms despite a deadline set by the Supreme Court expiring.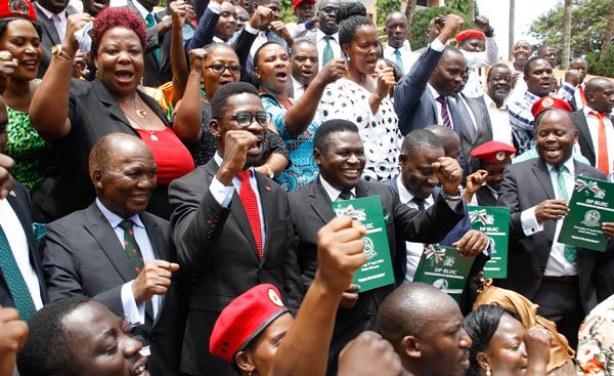 Opposition leaders after signing a Memorandum of Understanding to work together in preparation of the 2021 elections in Kampala (file photo).
Uganda: Uganda's Electoral Reform Dilemma

Monitor, 10 February 2019

All signs show Uganda will not take the road less travelled on the question of electoral reforms ahead of the 2021 general elections. It will be the usual business. Read more »

Uganda: No Money for Electoral Reforms, Says Otafiire

Monitor, 10 April 2019

The Minister for Justice and Constitutional Affairs, Maj Gen (Rtd) Kahinda Otafiire, yesterday said the government is yet to handle the long awaited constitutional review process,… Read more »

Uganda: Opposition Threatens to Table Own Electoral Reforms

Independent (Kampala), 30 January 2019

The opposition in parliament has revealed plans to table proposed amendments to different electoral laws amidst accusations that government is unwilling to do so. Read more »

Uganda: Speaker Directs Minister to Table Electoral Reforms Bill

Monitor, 17 January 2019

The Speaker of Parliament, Ms Rebecca Kadaga, has directed the Constitutional Affairs Ministry to table before Parliament a Bill on major electoral reforms. Read more »

Uganda: Opposition Ready to Present Electoral Reforms - Opposition

Monitor, 31 January 2019

Opposition is ready to present electoral reforms before Parliament for consideration, the Leader of Opposition (LoP), Ms Betty Aol, has said. Read more »
InFocus
Kizza Besigye, 62, is positioning himself to challenge President Yoweri Museveni for the fifth time, while pop star-turned-politician Bobi Wine will only say he is "seriously ... Read more »