Tests for Man Accused of Hacking Kenyan Medical Student to Death
Naftali Kinuthia is being held at the Naiberi Police Station as police record witness statements. Kinuthia allegedly attacked Ivy Wangechi, a Moi University medical student, with an axe and a knife on April 9, killing her in front of the hospital.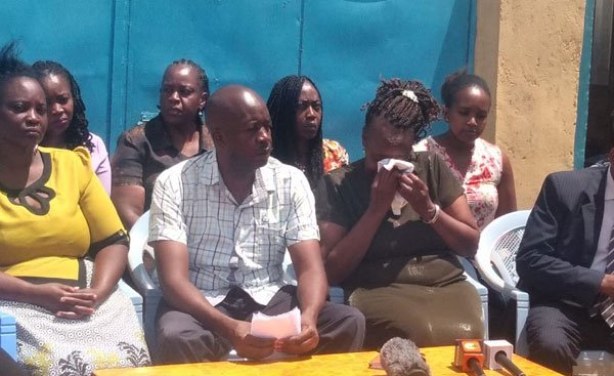 Ivy Wangechi's family address at their home in Thika on April 14, 2019. The medical student will be buried on April 18.
Kenya: Ivy's Murder - Jammed Courtroom as Suspect Naftali Kinuthia Appears

Nairobi News, 16 April 2019

Dressed in a blue pair of jeans, a black jacket and sandals, Mr Naftali Kinuthia buried his face in his hands as he appeared in public for the first time after he allegedly hacked… Read more »

Kenya: Wangechi Murder - Man to Appear in Court

Nation, 15 April 2019

The man who killed Ms Ivy Wangechi is expected to appear in court today in Eldoret as detectives continue to record statements from potential witnesses. Read more »

Kenya: Ivy Wangechi Was a Role Model, Her Family Says

Nation, 14 April 2019

Slain Moi University student Ivy Wangechi will be buried on Thursday next week at her parent's home in Mahiga, Nyeri County, her family has announced. Read more »

Kenya: Ivy Wangechi's Killer Discharged From Hospital

Nairobi News, 12 April 2019

Naftali Kinuthia, the man accused of murdering Ivy Wangechi in cold blood, has been discharged from hospital. Read more »

Kenya: Ivy Wangechi's Body Moved From Eldoret

Nation, 11 April 2019

Ms Ivy Wangechi's body was on Thursday transferred from Moi Teaching and Referral Hospital to Kenyatta University Referral Hospital mortuary as her family prepares to bury her. Read more »

Kenya: Details Emerge on Ivy Wangechi's Education, Last Moments

Nation, 10 April 2019

Ivy Wangechi, the sixth-year medical student who was brutally murdered in Eldoret on Tuesday, scored straight 'A's in Form Four. Read more »

Kenya: Glowing Tribute - Ivy Wangechi Aced Her KCSE to Study Medicine At Moi University

Nairobi News, 10 April 2019

Ivy Wangechi was a bright student who passed well in her Kenya Certificate of Secondary Education and got admitted to study Medicine and Surgery in Moi University. Read more »

Kenya: Revealed - Ivy Wangechi Killer Monitored Her Moves Closely

Nation, 10 April 2019

Ms Ivy Wangechi, the medical student whose promising life was brutally ended on Tuesday, was killed by a man described by her friends as a former schoolmate who was obsessed with… Read more »

Kenya: Naftali Kinuthia Killed Ivy Wangechi Due to Rejection - Police

Nation, 10 April 2019

Detectives investigating the gruesome murder of Moi University medical Student Ivy Wangechi on Wednesday pointed to frustration on the part of the attacker, Naftali Njahi Kinuthia. Read more »