Tributes Pour in For Former Kenyan President Moi's Eldest Son
Jonathan Toroitich Moi, 64, a celebrated rally driver, died in a Nakuru hospital. He attended Prince of Wales (Nairobi School) and studied agriculture in Delaware in the United States. He was a farmer and businessman.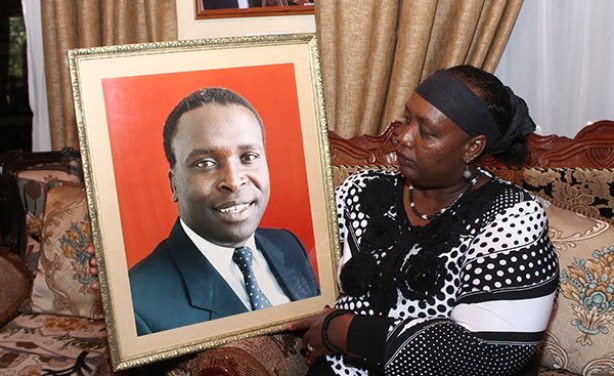 Sylvia Toroitich Moi holds a portrait of her late husband, Jonathan Toroitich, at their home in Kabimoi Farm in Eldama Ravine.
Kenya: Sports CS Amina Pays Tribute to Former Rally Driver Jonathan

Nation, 24 April 2019

Sports Cabinet Secretary Amina Mohammed has condoled with the family of former rally driver Jonathan Toroitich. Read more »

Kenya: Kenyatta Eulogizes Jonathan as Political Leaders Condole With Moi Family

Nairobi News, 20 April 2019

President Uhuru Kenyatta has sent his message of condolences to the family of the late Jonathan Moi, who was the eldest son of retired President Daniel arap Moi. Read more »

Kenya: President Kenyatta Mourns Jonathan Moi's Death

Nation, 20 April 2019

President Uhuru Kenyatta mourned the death of Jonathan Toroitich Moi, saying that the son of former President Daniel Moi was a humble, kind, generous and courageous person. Read more »

Kenya: Retired President Moi's Son, Jonathan Dies

Nairobi News, 20 April 2019

Jonathan Moi, eldest son of retired President Daniel Moi, has died in Nakuru, Press Secretary Lee Njiru has confirmed. Read more »

Kenya: Former President Daniel Moi's Son Dies in Nakuru

Nation, 20 April 2019

Jonathan Toroitich Moi, the son of former President Daniel Moi, died Friday evening in Nakuru. Read more »