Uganda Police Arrest Bobi Wine, Fire Teargas at Supporters
Ugandan police have arrested Kyadondo East MP Robert Kyagulanyi, who is popularly known as Bobi Wine, after shutting down one of his concerts and firing teargas at his fans, according to reports. Kyagulanyi, who has been a fierce critic of President Yoweri Museveni's government since he entered parliament in 2017, has been prevented from staging concerts by the police who claim that he has failed to meet certain requirements.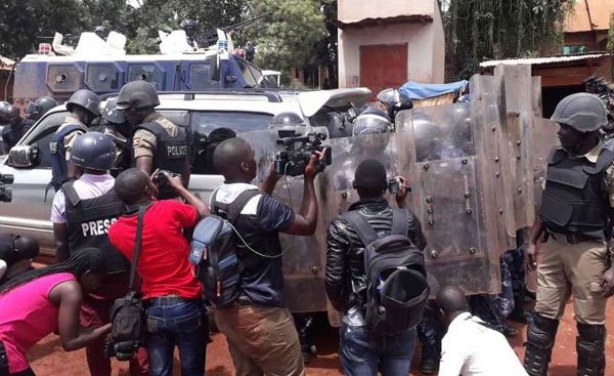 Police surround Bobi Wine's car before his arrest at One Love Beach-Busabala on April 22, 2019.
Uganda: Separate Music From Politics, Museveni Tells Ugandan Artistes

Monitor, 22 April 2019

President Museveni has said he will not tolerate music shows that are laced with politics and warned that in future nobody will be compensated for shows that have been cancelled… Read more »

Uganda: My Easter Concerts Are On, Says Bobi Wine

Monitor, 17 April 2019

Kyadondo East MP Robert Kyagulanyi, alias Bobi Wine, has said he will go ahead to hold his Easter music shows even if police have not responded to his notification he sent to them… Read more »

Uganda: Is Uganda's Opportunity for Change in Bobi Wine?

This is Africa, 25 March 2019

Uganda is gearing up for the presidential election in 2021, which sees President Museveni running for a sixth term. Is there a candidate that represents a credible alternative to… Read more »

Uganda: Bobi Wine Again Confirms Intention to Run for President

Deutsche Welle, 10 April 2019

Ugandan musician-turned-politician Bobi Wine tells DW he and his team are ready to take on veteran President Yoweri Museveni to restore freedom of expression to the country. Read more »

Uganda: Bobi Wine Draws Parallels as Bouteflika 20 Year-Era Ends

Nairobi News, 4 April 2019

Uganda's youthful MP Robert Kyagulanyi has 'congratulated' the Algerian people for successfully instituting a regime change in the country through protests. Read more »

Uganda: Bobi Wine Explains Plan to End Museveni's Three Decade Rule

Monitor, 12 April 2019

Kyadondo East MP Robert Kyagulanyi popularly known as Bobi Wine has said much as President Museveni is planning to stop him from running for president in the 2021 elections, he and… Read more »

Uganda: 'Music Exposes Thieves' - Meet Bosmic Otim, 'Northern Uganda's Bobi Wine'

African Arguments, 9 April 2019

In the north, a different popular singer articulates the people's widespread frustrations and recent memories of violence. Read more »