Cyclone-Ravaged Mozambique Threatened by New Tropical Storm
Cyclone Kenneth - which is approaching the southern coast of Tanzania and northern coast of Mozambique - has been upgraded to an intense tropical cyclone by Meteo France, the French national meteorological service, AccuWeather reports. Accuweather says that prior to reaching the eastern Africa coastline, the cyclone brought heavy rainfall to parts of Madagascar.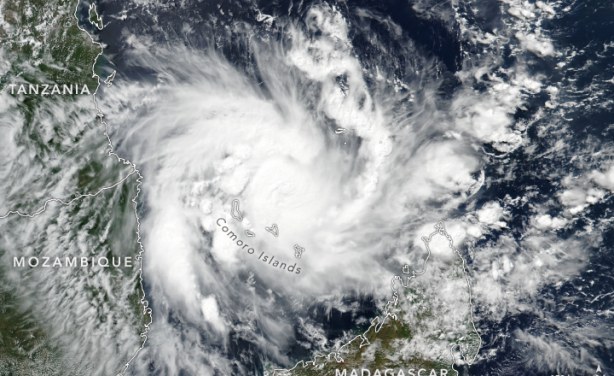 Cyclone Kenneth on April 24, 2019.
Mozambique: Red Alert Decreed As Cyclone Approaches

AIM, 24 April 2019

The Mozambican government's Disaster Management Coordinating Council (CCGC), meeting in extraordinary session in Maputo on Wednesday, decreed a red alert, the highest state of… Read more »

Mozambique: How Rampant Deforestation Made Country More Vulnerable to Cyclone Idai

The New Humanitarian, 24 April 2019

Cyclone Idai's recent devastation was amplified by deforestation in the region. Mozambique took the hardest hit. The country has seen between 10 and 15 percent of its forests… Read more »

Southern Africa: Another Strong Tropical Storm Heads for Mozambique

News24Wire, 24 April 2019

Another strong tropical cyclone is heading for the south-east coast of Africa and it is expected to make landfall on Thursday. Read more »

Southern Africa: Cyclone Moving Towards Northern Mozambique

AIM, 23 April 2019

A cyclone has formed in the Indian Ocean north of Madagascar, and is heading towards the northern Mozambican coast. Read more »

Mozambique: Fastjet Revenue Hit By Cyclones

AIM, 24 April 2019

The Pan African low-cost airline Fastjet on Tuesday announced that its revenue this year has been reduced due to the two category 5 tropical cyclones that have hit Mozambique. Read more »

Africa: New Cyclone Warning for Tanzania, Mozambique

Nation, 23 April 2019

A new cyclone is likely to hit Mozambique and Tanzania this week, weather forecaster AccuWeather has warned. Read more »

Mozambique: Boats Still Missing After Cyclone

AIM, 22 April 2019

At least 30 boats are still missing in the central Mozambican city of Beira, following the devastation caused by cyclone Idai, which hit the city on 14 March. Read more »

Southern Africa: Long Road to Recovery for Children After Cyclone Idai

VOA, 21 April 2019

The U.N. children's fund says at least 1.6 million children in Mozambique, Malawi and Zimbabwe need help right away to recover from the affects of Cyclone Idai, which… Read more »

Mozambique: PM Demands Transparency From Reconstruction Office

AIM, 23 April 2019

Mozambican Prime Minister Carlos Agostinho do Rosario on Monday demanded transparent management of the post-cyclone Reconstruction Office, set up by the government. Read more »