Cyclone Kenneth Kills in Comoros, Then Hits Mozambique, Tanzania
A powerful tropical cyclone has hit Mozambique and Tanzania. Three people have been killed in Comoros, with meteorologists calling it the strongest storm to make landfall in the area. Cyclone Kenneth made landfall on the African coast on Thursday, bringing gusting winds and heavy rain.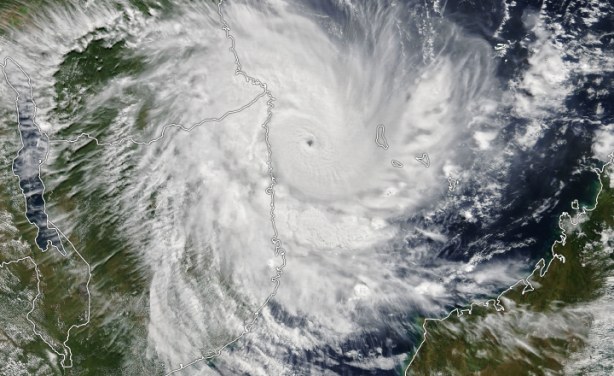 On April 25, 2019, the Moderate Resolution Imaging Spectroradiometer on NASA's Terra satellite acquired this natural-color image of Tropical Cyclone Kenneth just before landfall near the border of Mozambique and Tanzania. Around the time of the image, the U.S. Joint Typhoon Warning Center estimated sustained winds of 120 knots (220km/h).
InFocus
The storm, brewing in the Indian Ocean, is expected to strengthen as it heads toward the East African coast near the border between Mozambique and Tanzania. Read more »

Cyclone Kenneth - which is approaching the southern coast of Tanzania and northern coast of Mozambique - has been upgraded to an intense tropical cyclone by Meteo France, the ... Read more »

Just over a month after Cyclone Idai tore through Southern Africa bringing devastating floods, UNICEF says the needs in Mozambique remain massive, with 1 million children in need ... Read more »