Huge Rally Calls for Civilian Rule in Sudan
Thousands of people marched in Sudan's capital on Thursday for what organisers called a "million strong march" in support of civilian rule. The rally took place even though Sudan's ruling Transitional Military Council and opposition groups agreed to form a committee to resolve their disagreements.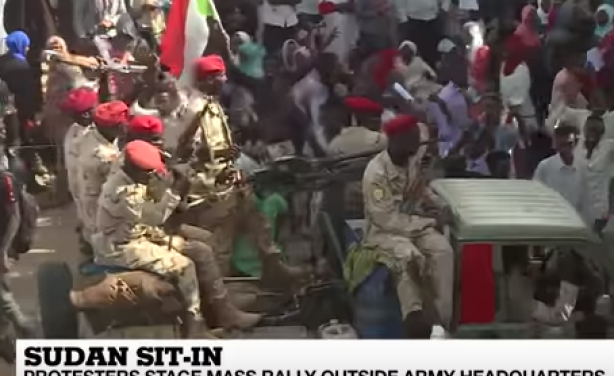 An army vehicle rides though the April 25 protest in Khartoum.
InFocus
Three members of the ruling Transitional Military Council have resigned ahead of the call by protesters for a million people march to demand that the military hand over the reins ... Read more »

Hundreds of people travelled on what activists call the 'freedom train' from the headquarters of Sudanese Railways in Atbara, River Nile State to Khartoum, to swell the numbers at ... Read more »

Sudan's Defence Minister General Ahmed Awad Ibn Auf has seized power, arrested Al-Bashir suspended the Constitution and will oversee a two-year transitional period. While in Libya, ... Read more »