Africa One of Worst Areas for Press - But Some Countries Improve
Press freedom continues to face serious restrictions across Africa,according to the Reporters Without Borders' 2019 World Press Freedom Index, released ahead of World Press Freedom Day on 3 May. In the sub-Sahara region, 22 of 48 countries are classified as either 'bad' or 'very bad'.
But there are bright spots, as well. Namibia (23) reclaimed the top spot on the continent, followed by Cape Verde (25), Ghana (27) and South Africa (31). East African countries scored poorly, including bottom-huggers Djibouti (173) and Eritrea (178), while newly reforming Ethiopia (110) rose 40 places.
Across North Africa, "journalism is sorely tested by the manifest desire of its leaders to control the media and prosecute journalists," the report says. The only country to rise on the index was Tunisia, which ranks 25 spots higher in 2019.
Africa: New Report Paints a Grim Picture of Press Freedom in Africa

Nation, 18 April 2019

Sub-Saharan Africa remains one of the worst regions for freedom of the press, according to the latest report by Reporters Without Borders (RSF). Read more »

Africa: 2019 RSF Index: Big Changes for Press Freedom in Sub-Saharan Africa

RSF, 16 April 2019

Sub-Saharan Africa has not avoided the latest international decline in press freedom. Hatred towards journalists, attacks on investigative reporters, censorship (especially online… Read more »

North Africa: 2019 RSF Index: Harassing North Africa's Journalists

RSF, 16 April 2019

With Morocco's drawn-out trials, the sometimes violent harassment by Libya's militias and Algeria's many prosecutions, journalists in North Africa work in an often hostile… Read more »

Benin: Newspaper Editor Arrested in Benin

RSF, 21 April 2019

Reporters Without Borders (RSF) condemns the arbitrary arrest of Casimir Kpédjo, the editor of Beninese newspaper Nouvelle Economie, over a story about Benin's debt. His… Read more »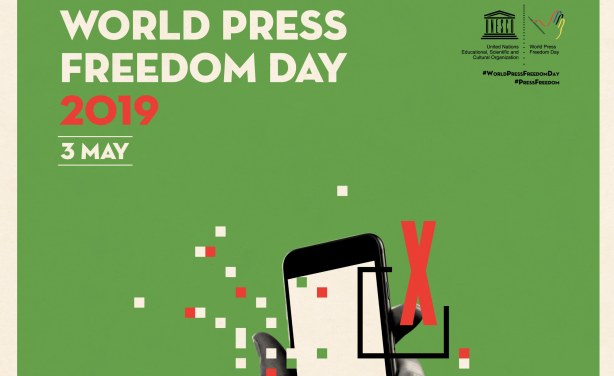 The World Press Freedom Day poster for 2019.
Namibia: Govt Assures Commitment to Press Freedom

New Era, 23 April 2019

Minister of Information and Communication Technology Stanley Simataa yesterday reaffirmed the government's "unwavering" commitment to press freedom and the expression of free… Read more »

Namibia: Government Ownership Perverts Media

Namibian, 26 April 2019

THE IMPENDING DEMISE of The Southern Times newspaper, with its death knell set to be sounded during Press Freedom Day week, opens up a moment to reflect on the role of governments… Read more »

South Africa: How Country Ranks in the Press Freedom Stakes

The Conversation Africa, 25 April 2019

It's pleasing that the latest World Press Freedom Index released by Reporters without Borders rates the state of press freedom in South Africa as "satisfactory". Satisfactory is… Read more »

South Africa: World Press Freedom Day 2019

The Journalist, 23 April 2019

May 3rd is World Press Freedom Day. It gives us an opportunity to assess the progress of our profession annually. Read more »

Namibia: Editors Forum Namibia Welcomes Recent Media Freedom Developments

Namibia Economist, 25 April 2019

The past 10 days have been marked by three major events in the area of media freedom in the country, namely: Namibia's slight improvement on the Reporters Without Borders' (RSF)… Read more »

Namibia: Geingob Lauds Namibia's Top Free Press Ranking in Africa

Namibian, 18 April 2019

PRESIDENT Hage Geingob has promised more transparency after Namibia reclaimed its position as the country with the freest media in Africa. Read more »

Tanzania: Tanzania Drops 25 Places in Press Freedom Report; Other East African Nations Also Rank Low

Citizen, 20 April 2019

Tanzania has dropped by 25 positions in the latest World Press Freedom Index Report. Read more »
InFocus
The World Press Freedom Index measures the level of media freedom in 180 countries. Restrictions range from subtle forms of censorship by political and government authorities to ... Read more »