Sudan's Military and Opposition Agree on Joint Council
Sudan's military council and the opposition alliance have reached an agreement to form a joint civilian-military council to lead the country until the next election. The agreement was reached during a meeting between the ruling Military Transitional Council and the Declaration of Freedom and Changes Forces, an umbrella organisation of opposition groups.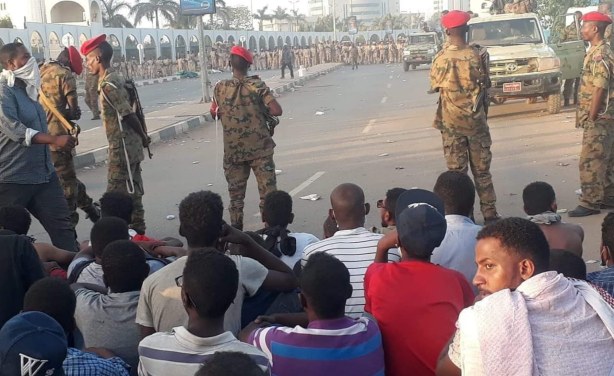 Soldiers stand in front of demonstrators in Khartoum on April 8, 2019.
Sudan: Symbolic Significance of the Space Protesters Made Their Own

The Conversation Africa, 26 April 2019

Where there is revolution, there's a central gathering point - just think of Egypt's Tahrir Square, Taksim Square in Istanbul and Habib Bourguiba Avenue in Tunisia. They all… Read more »

Sudan: Will the Military or the People Lead Sudan?

Chatham House, 26 April 2019

Sudan has seen more change in the last four months than in the previous 30 years, and there is now a mixture of euphoria and caution about the future, following the removal of Omar… Read more »

Sudan: More Than 50 Killed, 7,000+ Injured in Sudan Protests So Far

Radio Dabanga, 28 April 2019

A total of 53 people have been killed during the protest actions against the government of former President Omar Al Bashir, who was ousted on April 11. More than 7,000 protesters… Read more »

Sudan: Massive Sit-in At Army HQ Continues for Third Week

SudaNow, 28 April 2019

Thousands of Sudanese have continued their firm sit-in at the doorsteps of the Armed Forces headquarters, a sit-in that continues to be applauded and beefed up by the public around… Read more »

Sudan: More Busloads of Demonstrators Head for Sudanese Capital

Radio Dabanga, 28 April 2019

People from several parts of Sudan have arrived in Khartoum or are planning to travel to the country's capital in support of the demonstrators at the sit-in in front of the General… Read more »

Sudan: Imams Call for Justice, Others Criticised By Worshipers

Radio Dabanga, 28 April 2019

Protest marches and sit-ins again continued in Sudan on Friday, demanding the handover of power to civilians, the arrest of leaders of the ousted regime, and the dissolution of all… Read more »
InFocus
Hundreds of people travelled on what activists call the 'freedom train' from the headquarters of Sudanese Railways in Atbara, River Nile State to Khartoum, to swell the numbers at ... Read more »

Three members of the ruling Transitional Military Council have resigned ahead of the call by protesters for a million people march to demand that the military hand over the reins ... Read more »

Thousands of people marched in Sudan's capital on Thursday for what organisers called a "million strong march" in support of civilian rule. The rally took place even though Sudan's ... Read more »