Two Air Zimbabwe Planes in Mid-Air Incidents
Two Air Zimbabwe planes flying to Harare from Johannesburg and Bulawayo were involved in separate mid-air incidents in the space of 48 hours. Both incidents were confirmed by the troubled national carrier.
Zimbabwe: Airzim Engineers Probe Fire Incident

The Herald, 30 April 2019

Air Zimbabwe engineers have launched investigations into the cause of an engine malfunction that resulted in a "brief" tail pipe fire on its Boeing 767-200ER on its way from… Read more »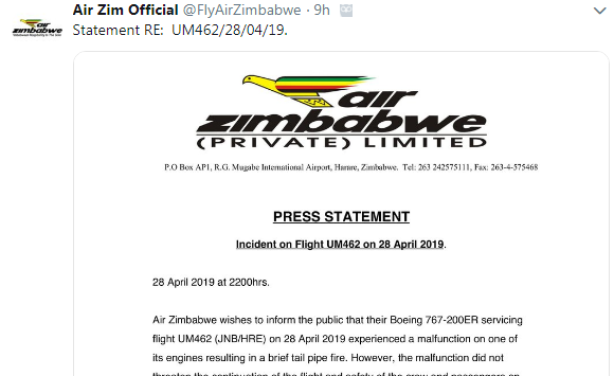 The Air Zimbabwe tweet about the mid-air engine fire incident.
InFocus
Barely 3 days after retrenching 200 employees, the state-owned airline has started rehiring some of the same staff members as the abrupt move wreaked havoc with the airline's ... Read more »

As all its aircraft had technical problems, the desperate airline was forced to hire a plane from South Africa, in an effort to fulfill some of its flight schedules. Read more »

And even with their seemingly dismal track record, the state-owned airline has failed to seal a modern passenger aircraft lease deal with Malaysia Airlines. The parties could not ... Read more »