#WorldPressFreedomDay: Fighting New Threats to African Journalism
A minority of Africans now supports media freedom, a key survey shows. Journalists across the continent face daily threats: many are incarcerated or intimidated for covering sensitive stories. Governments regularly shut down the Internet or try to use new laws to control social media. In this climate, an Addis Ababa conference to mark World Press Freedom Day (May 3, 2019) is looking at the relationship between the press and democracy. More than 100 other events will take place around the world in observance of the day.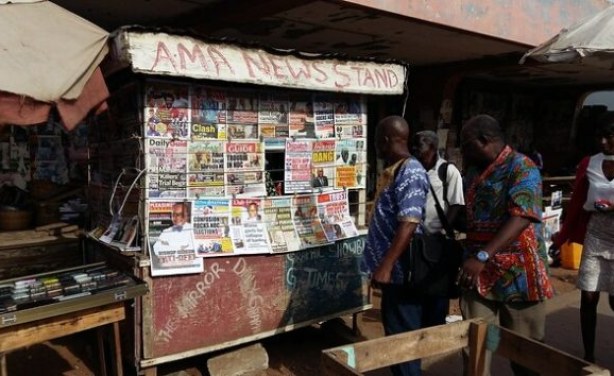 Ghana used to enjoy a thriving press and was once ranked number one in Africa in terms of media freedom.
Algeria: 'Get Them All Out!' the Panama Papers Connections to Algeria's Latest Revolution

International Consortium of Investigative Journalists, 3 May 2019

To celebrate the third anniversary of the Panama Papers - and to mark World Press Freedom Day - we're speaking with reporters from around the world about the investigation each… Read more »

South Africa: World Press Freedom Day - SA Drops in International Rankings

Daily Maverick, 3 May 2019

Reporters Without Borders has dropped South Africa's ranking three places after confirming 'that press freedom has yet to be consolidated in South Africa'. Read more »

South Africa: Why Restoring Accuracy Will Help Journalism Win Back Credibility

The Conversation Africa, 2 May 2019

As a journalist and a media academic, I have always assumed that I'm a fairly savvy media consumer. I know when something is genuine, and when what I'm looking at misinformation,… Read more »

Africa: Press freedom essential for democracy and development in Africa, says Songwe

Economic Commission for Africa, 2 May 2019

Addis Ababa, Ethiopia, May 2, 2019 (ECA) – Economic Commission for Africa's (ECA) Executive Secretary, Vera Songwe, on Thursday celebrated World Press Freedom Day by… Read more »

Africa: 2019 World Press Freedom Day: Journalism in Times of Disinformation

UNESCO, 2 May 2019

The relationship between the press and democracy will be the main theme of this year's edition of World Press Freedom Day (3 May) jointly organized by UNESCO, the Ethiopian… Read more »

Uganda: Govt Clamps Down On Journalists for Reporting On Bobi Wine Case

Deutsche Welle, 2 May 2019

Uganda's communications commission has suspended over 30 journalists for their roles in reporting about the arrest of opposition figure Bobi Wine. He faces trial for staging a… Read more »

Ethiopia: Fragile New-Found Press Freedom Must Be Buttressed in Law and Practice

Addis Standard, 2 May 2019

Ahead of this year's World Press Freedom Day, the Ethiopian authorities must do more to ensure press freedom is entrenched both in practice and in law. Read more »

Rwanda: Paul Kagame - an Enemy of the Media Parading As a Statesman

Deutsche Welle, 2 May 2019

Paul Kagame's rigorous suppression of the media has made him Rwanda's unchallenged leader. So don't buy it when he suddenly says journalists should not be jailed for insulting the… Read more »

Nigeria: Buhari Hails Nigerian Journalists On World Press Day

Premium Times, 2 May 2019

President Muhammadu Buhari has saluted Nigerian journalists as they join their professional colleagues across the world to mark World Press Freedom Day. Read more »

Namibia: Editors Forum Namibia Welcomes Recent Media Freedom Developments

Namibia Economist, 25 April 2019

The past 10 days have been marked by three major events in the area of media freedom in the country, namely: Namibia's slight improvement on the Reporters Without Borders' (RSF)… Read more »

West Africa: Bleak Outlook for Press Freedom

IPS, 23 April 2019

When former footballer George Weah became president of Liberia in 2018, media practitioners felt they had in him a democrat who would champion media freedoms. "But we were… Read more »

Benin: Internet Shutdown Repeats Pattern of Government Censorship Across Africa

VOA, 30 April 2019

When authorities in Benin turned off the country's internet during parliamentary elections Sunday, they became the ninth African government to restrict access this year. Read more »
Video
Author:

United Nations

Publisher:

Publication Date:

29 April 2019

Video message from H.E. António Guterres , United Nations Secretary General, on World Press Freedom Day 2019. see more »
InFocus
Press freedom continues to face serious restrictions across Africa,according to the Reporters Without Borders' 2019 World Press Freedom Index, released ahead of World Press Freedom ... Read more »