Kenya Teachers' Union Vows Not to Support New Curriculum
In a paid advert in local dailies, Kenya National Union of Teachers secretary-general, Wilson Sossion, says the ongoing rollout of the competency based curriculum in pre-school and lower primary is illegal in nature, and a violation of the Constitution. The teachers' union accuses the ministry of education of failing to secure stakeholders involvement and participation.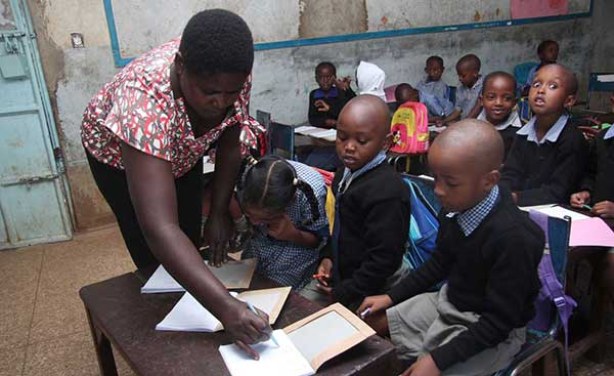 A teacher instructing Grade One pupils (file photo).
Kenya: New Curriculum on Course as Schools Reopen

Nation, 29 April 2019

Learners in nursery schools and lower primary begin their second term Monday under the new curriculum with Education Cabinet Secretary Prof George Magoha having hailed its rollout… Read more »

Kenya: KNUT Should Not Derail New Curriculum Rollout

Nation, 25 April 2019

The Kenya National Union of Teachers' stand on the ongoing training of its members on the new curriculum is ill-advised. Read more »

Kenya: Kuppet Disowns KNUT's Stand on Curriculum Training

Nation, 25 April 2019

The Kenya Union of Post Primary Education Teachers (Kuppet) and National Assembly's Education committee on Wednesday differed with the Kenya National Union of Teachers (Knut),… Read more »

Kenya: Curriculum Training - IG Warns of Arrests Amid Disruptions

Nation, 23 April 2019

Police have assured safety of the 91,000 teachers being trained on the new curriculum, following several attacks by some union leaders. Read more »

Kenya: New Curriculum Training Set to Start Countrywide

Nation, 22 April 2019

Tuesday will be a defining moment for both the government and the Kenya National Union of Teachers (Knut) as the training of close to 100,000 teachers for new curriculum starts. Read more »

Kenya: Sossion Asks Teachers to Boycott Training On New Curriculum

Nation, 17 April 2019

Kenya National Union of Teachers (Knut) Secretary-General Wilson Sossion has asked members to boycott training on the new curriculum, that is scheduled to begin on April 23. Read more »

Kenya: KNUT Wants Competency Based Curriculum Suspended, Says Teachers Ill Prepared

Capital FM, 19 March 2019

The Kenya National Union of Teachers has called for the suspension of the Competency Based Curriculum (CBC) saying that teachers have ill-prepared and lack training. Read more »

Kenya: Teacher Training Manual Review for New Curriculum Underway

Capital FM, 26 February 2019

The review of the Teacher Training Manual for the new curriculum is currently underway in preparation of the training of teachers and other new curriculum support officers which is… Read more »
InFocus
Kenyan schools are starting 2019 amid much uncertainty. The main teachers' union had threatened a strike but now says it will abide by an order from the Employment and Labour ... Read more »