World Bank Agrees to Finance Kenyatta's Affordable Housing Dream
The multilateral lender says the U.S.$250 million will enable the country to set up the Kenya Mortgage Refinance Corporation, to be owned by the state, commercial banks and financial co-operatives. President Uhuru Kenyatta has said provision of affordable housing is one of his four key priority areas in his second term and aims at providing 500,000 affordable houses in five years.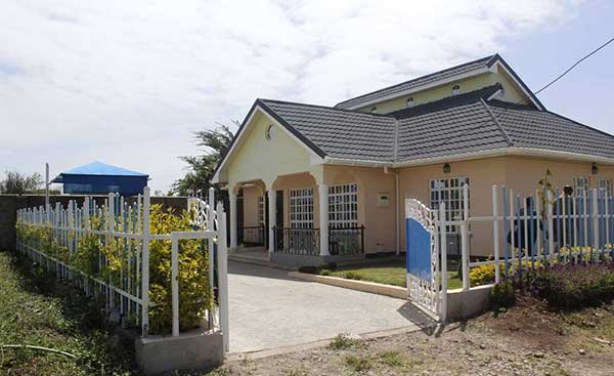 A newly-built house. Kenyans have opposed the plan by the government to deduct part of workers' salaries to fund its housing project.
Kenya: WB Approves Sh25 Billion to Boost Cheap Mortgage

Nation, 1 May 2019

The World Bank has approved Sh25 billion ($250 million) to help Kenya set up a mortgage refinancing company that will make it easier for banks to access long-term finance for… Read more »

Kenya: World Bank Approves U.S.$250 Million Loan to Kenya for Affordable Housing

East African, 1 May 2019

The World Bank has approved a Ksh25 billion ($250 million) loan to Kenya for affordable housing loan for Kenyans who are unable to access affordable housing finance. Read more »

Kenya: Treasury Unveils Sh2.7 Trillion Budget as Deficit Widens

Nation, 1 May 2019

The government plans to spend Sh2.7 trillion in the next financial year. Read more »

Kenya: Kenya Unveils Sh$26 Billion Budget

Dalsan Radio, 2 May 2019

The Kenya government plans to spend Sh2.7 trillion in the next financial year. Read more »

Kenya: Big 4 Agenda - Sonko Now Seeks to Talk Kenyatta Out of Cheap Housing Promise

Nairobi News, 28 April 2019

Nairobi Governor Mike Sonko has opposed implementation of the housing levy, even though his county stands to benefit the most. Read more »

Kenya: PS Hinga Waxes Lyrical but Mass Housing Drive Proves Hard Nut to Spin

Nation, 28 April 2019

Charles Hinga Mwaura is fond of talking, but he rarely communicates. Read more »

Kenya: Labour Court Issues Fresh Orders Suspending Housing Tax

Nation, 17 April 2019

The Labour court on Wednesday issued fresh orders temporarily stopping the government from implementing the 1.5 per cent levy for the housing fund. Read more »

Kenya: Kenyans Oppose Plan to Tax Them for Jubilee Housing Project

Nation, 17 April 2019

Kenyans have taken to social media to express their opposition to the plan by the government to deduct part of workers' salaries to fund its housing project. Read more »
InFocus
The housing ministry and the Kenya Revenue Authority have announced that the housing fund levy "has come into effect", meaning every employed Kenyan must remit 1.5 % of their basic ... Read more »

President Uhuru Kenyatta's address doesn't seem to resonate with Kenyans on social media, with one Twitter user pointing out that the "president spoke to the nation for a ... Read more »

President Uhuru Kenyatta has delivered his much awaited State of the Nation address at Parliament on Thursday, speaking strongly on matters including the war on graft, the Big Four ... Read more »