Bobi Wine Outshines President Museveni on Popularity Poll
According to the poll commissioned by Research World International, President Yoweri Museveni would garner 32% of all votes cast if elections were held in the country today. It also suggests that the Uganda's next presidential elections will be determined by a run-off as none of the candidates are currently able to marshal a 50% plus one threshold as required by the constitution.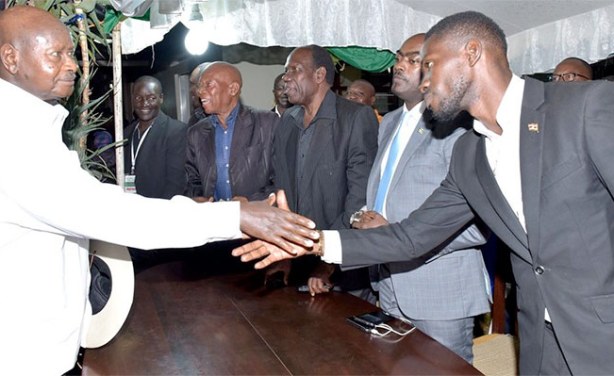 President Yoweri Museveni shakes hands with Bobi Wine (file photo).
InFocus
The country's media regulator has directed six television stations and seven radio stations to suspend their producers and heads of news and programs, alleging they breached ... Read more »

MP Robert Kyagulanyi, who was arrested on his way to respond to Criminal Investigations Directorate summons, faces charges of inciting violence, holding an unlawful assembly, ... Read more »

Days after Ugandan police told Bobi Wine he was free to leave his house, the parliamentarian was rearrested as he was in the process of attending to another legal matter. His new ... Read more »