Tanzanians Give Tycoon Reginald Mengi Heroic Farewell
Thousands of mourners lined up at the Evangelical Church of Tanzania in Moshi to pay their final respects to businessman Reginald Mengi. Mourners were led by Prime minister Kassim Majaliwa together with other government officials.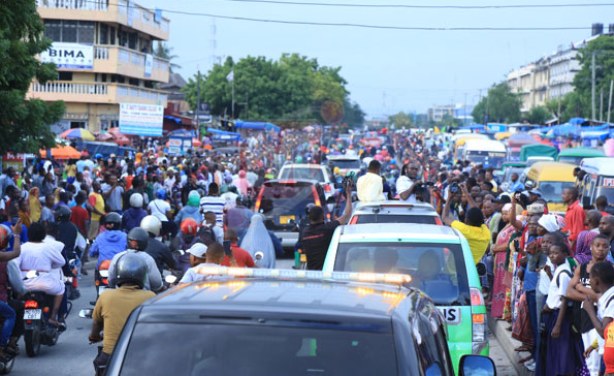 Thousands of people gathered on the streets of Dar to pay their respects to the fallen business magnate who passed on in Dubai on May 2, 2019.
Photo Essay
Picture 1 of 9

The body of business mogul Reginald Mengi has arrived in Dar es Salaam. see more »
East Africa: Kenya's President Uhuru Kenyatta Calls On EAC to Emulate Mengi's Service

Citizen, 9 May 2019

Kenyan President, Uhuru Kenyatta today Thursday, May 8, called upon East African countries to emulate Reginald Mengi's unforgettable story, which has contributed substantially to… Read more »

Tanzania: Dar Gives Mengi Heroic Farewell

Daily News, 8 May 2019

PRESIDENT John Magufuli yesterday led thousands of mourners, including diplomats and high profile government officials to pay last respects to the fallen media mogul Reginald… Read more »

Tanzania: Magufuli Leads Mourners to Pay Last Respects to Fallen Mengi

Citizen, 7 May 2019

President John Magufuliwas among hundreds of mourners, who paid their last respect to the body of the late IPP group of companies Reginald Mengi at the Karimjee grounds on Tuesday… Read more »

Tanzania: Thousands Watch as Mengi's Body Arrives in Dar

Citizen, 6 May 2019

Five days after founder and executive chairman of the IPP Group of companies Reginald Mengi died, his body finally arrived in Dar es Salaam to an emotional reception at the Julius… Read more »

Tanzania: EABC Eulogises Mengi As Intelligent, Kind

Daily News, 6 May 2019

THE East African Business Council (EABC) has condoled with the family of the late Dr Reginald Mengi, describing him as a business magnate, author and philanthropist. Read more »

Tanzania: Public Can Pay Final Respects to Mengi Today

Citizen, 6 May 2019

The remains of founder and executive chairman of the IPP Group of companies Reginald Mengi who died on Thursday in Dubai has arrived at Julius Nyerere International airport on an… Read more »
InFocus
Tanzanians have paid tributes to business mogul who died in Dubai where he was receiving treatment, describing his passing as a loss to the country. President John Magufuli also ... Read more »