Kenya-U.S. Relations Reach New Heights
Kenya and the U.S. have signed agreements in an aim to advance the two countries' joint goals in economic prosperity, trade and investment, defence cooperation, democracy, governance and civilian security and multilateral and regional issues. The U.S. has been Kenya's strategic partner in war on terror, from supplying equipment to launching drone attacks on targeted militants inside Somalia.
Kenya: Kenya-U.S. Relations Up a New Level

Nation, 8 May 2019

Kenyan and US officials signed documents in Washington on Tuesday that outline plans to raise bilateral relations to what a US diplomat called "a new level." Read more »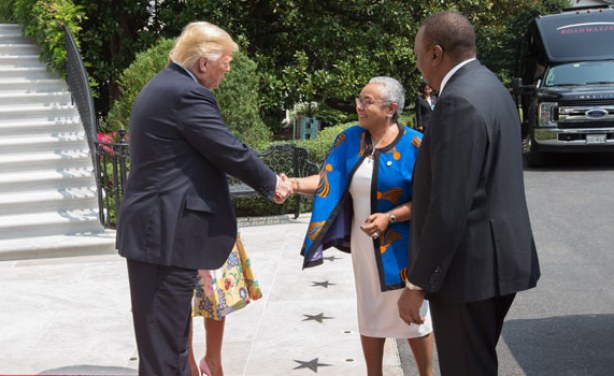 Presidents Donald Trump and Uhuru Kenyatta with the First Ladies Melania Trump and Margaret Kenyatta (file photo).
InFocus
Hours after the US Embassy announced that it will not give visas to Kenyans with old passports, it has put the new measure on hold. Read more »

The UN refugee agency has noted that U.S. immigration officials recently rejected all 56 of the Somali cases in Dadaab -the world's largest refugee camp in Kenya- that had been ... Read more »

In its State Department budget proposal, the White House reportedly justifies these cuts as ways of "reducing dependency on U.S. assistance and increasing self-sufficiency" on the ... Read more »