Voter Discontent to Blame for South African Election Protests?
Protests in KwaZulu-Natal and the Eastern Cape marred election proceedings with residents citing poor service delivery as the reason for their demonstrations. Several arrests were made and ANC Secretary General Ace Magashule called for "harsh" action against the perpetrators.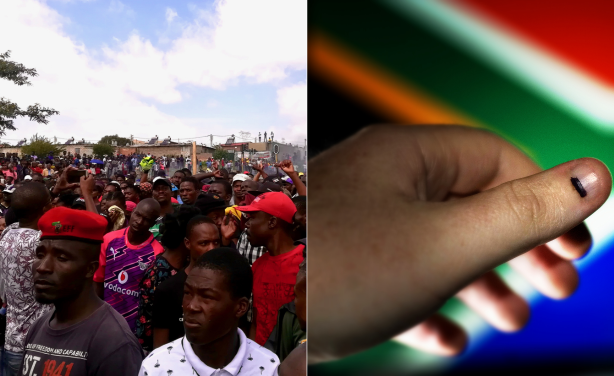 Left: Service delivery protest. RIght: Voter's thumb marked after casting a ballot.
South Africa: Minor Protests Delay Opening of Polling Stations

Daily Maverick, 8 May 2019

The day of what has been called the most important election in South African history post-1994 has finally arrived. Millions of South Africans have gone out to vote. However, in… Read more »

South Africa: KZN's Troubles Spillover Into Elections - Six Arrested, Voting Stations Closed Due to Protests

News24Wire, 8 May 2019

Scores of voters in parts of KwaZulu-Natal have still not been able to cast their ballots as the province emerged as one of the most troublesome on Wednesday, numerous protests… Read more »

South Africa: Protest Leader Arrested in Vuwani

News24Wire, 8 May 2019

The situation in Vuwani, Limpopo remains unpredictable after the arrest of one of the protest leaders on Monday night. Read more »

South Africa: Several Protests Erupt in Durban On Election Day

News24Wire, 8 May 2019

Police in Durban were kept busy on election morning after several protests flared up. Read more »

South Africa: Cars Stoned During Pre-Election Protests Near Plett

News24Wire, 8 May 2019

The Bitou Municipality in Plettenberg Bay on Tuesday night issued an urgent advisory as protesters took to the streets and threw rocks at passing vehicles. Read more »

South Africa: Another Durban Protest Erupts a Day Before the Elections

News24Wire, 7 May 2019

Another protest has erupted in Durban - this time in Reservoir Hills on Tuesday morning - just a day before South Africans head to the polls to vote in the general elections. Read more »
InFocus
South Africa's African National Congress is on course to retain power in the country, but after a lower voter turnout. Issues around corruption and unemployment may have played ... Read more »

Polling stations have opened across South Africa as the country stages the sixth general election since the onset of democracy in 1994. Read more »

South Africans are about to vote in the most competitive election they've had since democracy began in 1994. But, despite this, the poll will have far more impact on the factional ... Read more »