Oyetola vs Adeleke - Appeal Court Decides on Osun State Governor
Governor Gboyega Oyetola has been declared the winner of last year's Osun State governorship election. The tribunal had earlier declared Ademola Adeleke, candidate of the Peoples Democratic Party winner of the controversial election, while a certificate forgery case is still pending against Adeleke.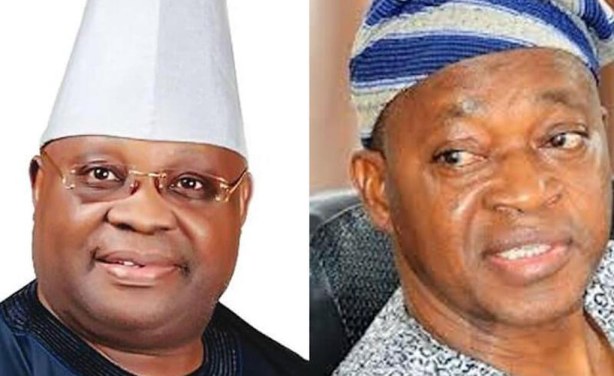 Ademola Adeleke of the PDP and Gboyega Oyetola of the APC.
Nigeria: Oyetola Speaks On His Victory At Court of Appeal

Guardian, 9 May 2019

Gov. Gboyega Oyetola of Osun on Thursday said his election victory at the Court of Appeal had proved that there was a limit to the extent to which falsehood and propaganda could be… Read more »

Nigeria: Adeleke, PDP Vow to Challenge Appeal Court Judgment

Premium Times, 9 May 2019

The Peoples Democratic Party (PDP) and its candidate, Ademola Adeleke, say they will appeal the judgment of the Court of Appeal nullifying the victory of Mr Adeleke at the Osun… Read more »

Nigeria: Why Appeal Court Judgement Cannot Stand - Adeleke

Premium Times, 9 May 2019

The Peoples Democratic Party (PDP) governorship candidate for Osun 2018 Governorship Election, Ademola Adeleke, said he had instructed his counsels to challenge the appeal court… Read more »

Nigeria: 'It Hurts, It's Extremely Painful', Davido Reacts to Uncle's Defeat At Appeal Court

Vanguard, 9 May 2019

Music star, Davido, has expressed his disappointment at the ruling of the Court of Appeal which declared Alhaji Gboyega Oyetola of the All Progressives Congress (APC) as the… Read more »

Nigeria: Appeal Court Upholds Oyetola's Appeal, Says Adeleke Has No Case

Vanguard, 9 May 2019

The Court of Appeal in Abuja, on Thursday, upheld the election of Governor Adegboyega Oyetola of Osun State, even as it nullified the tribunal judgment that declared Ademola… Read more »

Nigeria: Adeleke's Arrest, Attempt to Hound Opposition Voices - Governorship Candidate

Premium Times, 9 May 2019

The arrest and ongoing trial of Ademola Adeleke, a Nigerian senator, is an attempt to hound opposition voices in the country, the governorship candidate of Restoration Party in… Read more »

Nigeria: Still On Osun Governorship Election

Vanguard, 4 October 2018

After the Osun State governorship election, Nigerians have moved on. It is needless, they will tell you, crying over spilt milk. You are told, if you insist on a modicum of decency… Read more »

Nigeria: Davido Gives Up On Nigeria's Democracy, Condemns Adeleke's Arrest

Guardian, 7 May 2019

Popular Nigerian music star, Davido who undoubtedly been one of the most vocal celebrities about the Nigerian elections has reacted to the report that his uncle, Senator Ademola… Read more »
InFocus
Ademola Adeleke was first arrested in September 2018, a few days before the Osun governorship election in which he was the strongest People's Democratic Party candidate running ... Read more »

An Abuja High Court has reportedly nullified Senator Ademola Adeleke's nomination as Peoples Democratic Party candidate in the 2018 governorship election over allegations of ... Read more »

The Independent National Electoral Commission has declared the candidate of the All Progressives Congress, Gboyega Oyetola, the winner of the 2018 Osun governorship election. The ... Read more »