Double Voting Charges Mar South Africa's 2019 Elections
"The Justice, Crime Prevention and Security cluster has made good on their promise to prioritise electoral crimes, with 16 people across the country already convicted and sentenced", Police Minister Bheki Cele has said. Crimes included double voting which saw 19 people arrested in the KwaZulu Natal Province, while two others were arrested in Barberton, Mpumalanga for the same offence.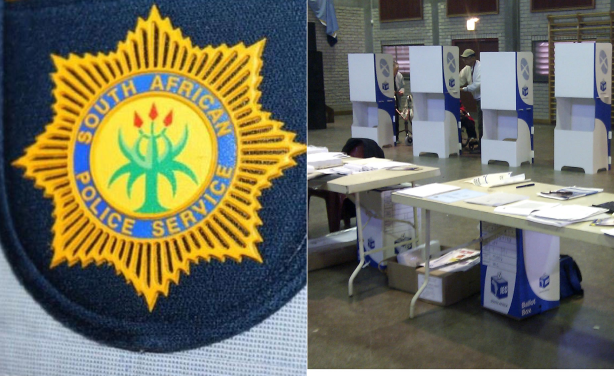 Left: SAPS police badge. Right: Voting booths.
South Africa: Police Taking Statements From Politicians in Relation to Double Voting Allegations

News24Wire, 13 May 2019

Police Minister Bheki Cele has confirmed that statements are being taken from politicians who allegedly involved themselves in the double voting scandal on election day. Read more »

South Africa: No Evidence of Double Voting, Says IEC

News24Wire, 10 May 2019

No evidence was found against those who were arrested for double voting in KwaZulu-Natal, Electoral Commission of SA (IEC) chief electoral officer Sy Mamabolo said on Friday. Read more »

South Africa: Smaller Parties Cry Foul Over 'Double Voting' Danger

News24Wire, 9 May 2019

Smaller parties have warned the Independent Electoral Commission there might be consequences over its inability to efficiently respond to objections lodged during voting day. Read more »

South Africa: 19 Arrested in KZN for 'Double Voting'

News24Wire, 9 May 2019

Nineteen people were arrested in three KwaZulu-Natal municipalities for "double voting", provincial Electoral Commission of SA (IEC) officials said on Thursday afternoon. Read more »

South Africa: Two Barberton Voters Say They Managed to Make Their Marks More Than Once

News24Wire, 9 May 2019

Two voters in Barberton, Mpumalanga, say they managed to cast more than one vote on Wednesday at different voting stations. Read more »
InFocus
The Democratic Alliance has said that it will call for a full audit of all the voting stations after several complaints were lodged with the Electoral Commission over its voting ... Read more »

South Africa's African National Congress is on course to retain power in the country, but after a lower voter turnout. Issues around corruption and unemployment may have played ... Read more »