Nigeria's Central Bank Governor Nominated for Second Term
President Muhammadu Buhari has nominated Godwin Emefiele for a second term as governor of the Central Bank of Nigeria. Emefiele was first appointed in 2014 by former president Goodluck Jonathan and was retained when Buhari came to office in 2015. This is the first time since 1999, when Nigeria returned to democracy, that someone has been nominated to serve two terms as central bank governor.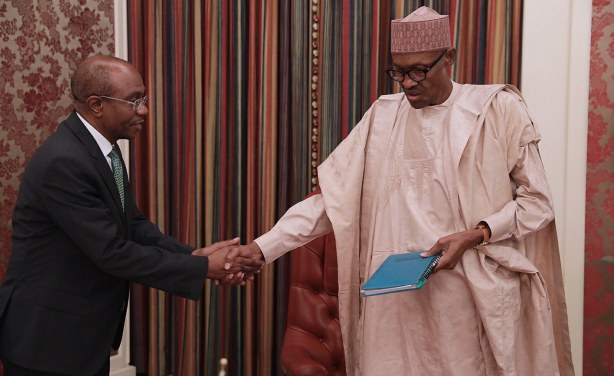 President Muhammadu Buhari and the Central Bank Governor, Godwin Emefiele (file photo).
Nigeria: Buhari Reappoints Emefiele for Second Term

Leadership, 10 May 2019

For his sterling performance and the need to consolidate the economic gains of his first term, President Muhammadu Buhari has reappointed Mr Godwin Emefiele as Central Bank of… Read more »

Nigeria: Analysts Foresee Stability As Buhari Reappoints Emefiele

This Day, 10 May 2019

The reappointment of Governor of Central Bank of Nigeria, Mr. Godwin Emefiele, for a final term of five years by President Muhammadu Buhari, would bring stability to the nation's… Read more »

Nigeria: Emefiele Confirms Re-Appointment As CBN Governor

Daily Trust, 9 May 2019

The governor of Central Bank of Nigeria (CBN), Godwin Emefiele, has confirmed that he is returning for a second term. Read more »

Nigeria: Buhari Moves to Reappoint Emefiele As CBN Governor

Vanguard, 9 May 2019

President Muhammadu Buhari is said to have forwarded Godwin Emefiele's name to the National Assembly for reappointment as Central Bank of Nigeria (CBN) Governor. Read more »

Nigeria: Buhari Reappoints Central Bank Governor for Another Five-Year Term

Premium Times, 9 May 2019

President Muhammadu Buhari has reappointed the governor of Central Bank of Nigeria, Godwin Emiefele, for a second and final term of five years. Read more »

Nigeria: Okowa Hails Emefiele's Reappointment As CBN Governor

Vanguard, 9 May 2019

Delta State Governor, Senator Ifeanyi Okowa, on Thursday congratulated the Governor of the Central Bank of Nigeria, (CBN), Mr. Godwin Emefiele, on his reappointment for another… Read more »

Nigeria: Buhari Extends CBN Governor's Tenure

Guardian, 9 May 2019

Nigeria's President Muhammadu Buhari is expected to extend the Central Bank of Nigeria's governor Godwin Emefiele's tenure for another term. Read more »
InFocus
The governor of the Central Bank of Nigeria Godwin Emefiele has revealed that President Muhammadu Buhari is satisfied with the stability in the foreign exchange market, following ... Read more »