Libyan Prime Minister Meets with UK's Theresa May
Libyan Prime Minister Fayez Al-Serraj has met with British Prime Minister Theresa May and Foreign Secretary Jeremy Hunt to discuss international support for a ceasefire and returning to UN-led negotiations. In Tripoli, Médecins Sans Frontières has called for the urgent evacuation of detained refugees and migrants whose lives are in danger as conflict rages around them.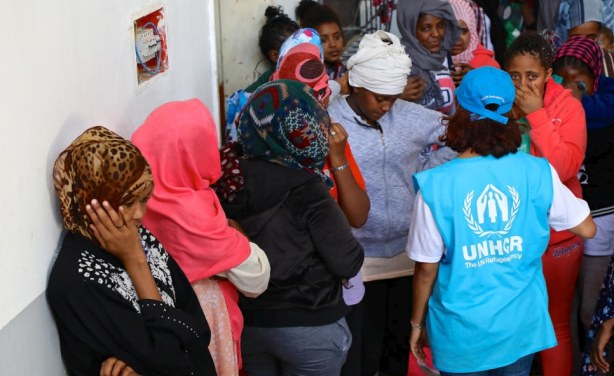 Refugees and asylum-seekers are processed at Tripoli International Airport before an emergency evacuation flight to Niamey, Niger, May 2018.
Libya: Ongoing Fighting Endangers Detained Migrants and Refugees

MSF, 9 May 2019

Since fighting erupted in Tripoli, Libya, on April 4, 2019, Doctors Without Borders/Médecins Sans Frontières (MSF) has called for the urgent evacuation of detained… Read more »

Libya: Urgent Action Needed to End Hostilities, International Court's Chief Prosecutor Tells UN

UN, 8 May 2019

Keep Situation at Top of Priority List, Urges Permanent Representative, as Russian Federation Says Conflict's Roots Overlooked Read more »

Libya: Journalists Mohamed Al-Qurj and Mohamed Al-Shibani Missing Since May 2

CPJ, 9 May 2019

The Committee to Protect Journalists is gravely concerned about the safety of Mohamed al-Qurj and Mohamed al-Shibani, Libyan journalists with Qatar-based private television… Read more »

Libya: Move Refugees in Tripoli Out of Harm's Way, Urges UNHCR

UNHCR, 8 May 2019

UNHCR, the UN Refugee Agency is calling for refugees and migrants in detention centres in conflict areas in Tripoli to be immediately evacuated to safety, after an airstrike hit a… Read more »
InFocus
There are fears for the safety of African migrants after armed men attacked detainees at the Qasr Ben Geshir detention centre on April 23, according to reports. About 6,000 ... Read more »

General Khalifa Haftar's push for Tripoli could be the most important moment for Libya since the overthrow of Moammar Gadhafi in 2011. Who are the players and what's at stake for ... Read more »